Winner makes last second shot to win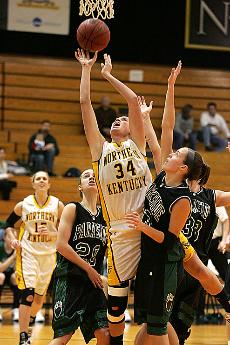 Tim Downer
Northern Kentucky University Women's Basketball Team found itself in a struggle Feb. 10 against the University of Wisconsin-Parkside, but ended up on the right side of the scoreboard when time expired, thanks to Brittany Winner's last-second shot to win the game 60-58.
"It felt great to win this game. It was a struggle throughout, but we played hard and never gave up," Head Coach Nancy Winstel said.
With 15 seconds remaining in the game, senior Karyn Creager drove the lane and tied the game at 58. UWP advanced the ball up the court and attempted a shot that was blocked by sophomore Cassie Brannen, which caused a jump ball. The result was NKU possession with 4.2 seconds to go and a tied ball game.
NKU wanted to get a screen pass to break the press, but the Rangers laid off and made the Norse go to its backup plan–Winner.
"The play wasn't specifically designed to get Brittany the ball, we just wanted to get the ball in play, fortunately it got to Brittany. She is a great player who made a great play," Winstel said.
Winner drove the length of the court, got just outside the 3-point arc, looked at the clock one final time, and went strong to the hoop. She released the ball right before time expired. It rolled around the rim and dropped through the net.
"It is incredible to hit a shot like that," Winner said. "I heard the buzzer, I looked up and watched the ball roll around and then it finally fell in. Not many players get a chance to do something like that."
Winner also led the Norse in scoring with 17 points. "Wanting to avenge the loss was a big reason for wanting to play well, but we also wanted to show everyone that the win against Lewis wasn't for nothing," Winner said.
She wasn't alone in her scoring frenzy, Creager scored 11 points and Brannen scored 12 points.
The game was huge for the Norse, who had just come off an upset win of No.7 Lewis on Feb. 8, as it extended the Norse's winning streak to 10, the longest current streak in the Great Lakes Valley Conference.
"This is a tough stretch for us; it's just as tough mentally as it is physically. The game against Lewis took a lot out of us, but it's no excuse. We didn't play our greatest game, but we got the win," Winstel said when asked about the overall performance of her team.
The win against UWP moved the Norse to 17-5 overall and 11-4 in conference play. The win also prevented the Rangers from sweeping the Norse on the season.
The Norse will wrap up its final home games of the season 5:30 p.m. Feb. 15 against Kentucky Wesleyan College.