'MTV spring break' dream turns deadly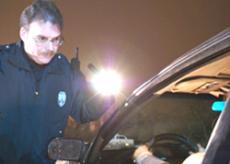 April Wright
It was spring break, a time when Mark Sterner and four of his fraternity brothers wanted to let loose and have fun before they graduated college. However, by the end of the trip, Sterner was in a coma and faced up to 45 years in prison.
"We wanted to experience the MTV spring break," Sterner said to Northern Kentucky University students in the Otto Budig Theater Feb. 11.
Sterner showed a video of last night he and his friends spent in Sanibel, Fla., and the last time three of his friends were alive.
The video, recorded by Sterner, began with the five guys taking Jagermeister shots in their hotel room, laughing and having a good time. Pretty soon they were off to a nearby bar. The video showed Sterner, the driver, trying to drive at least 100 mph, which he accomplished before they got to the bar.
The rest of the video showed the fraternity boys dancing and taking more drinks at the bar. It ended with Sterner's face in the camera saying they were going to finish partying at a bar closer to the hotel, but they didn't make it.
About two miles from the hotel, the front right tire of the Lincoln Towncar Sterner was crashed off the road and the car crashed into a tree. Three of the passengers were killed instantly. His friend Aaron, 22, was trapped under the car, Pete, 22, was thrown 45 yards into a nearby wooded area and Jim, 23, was found near the car. Sterner's best friend Darrin survived the crash with minor injuries.
Police found Sterner's next to Pete. According to Sterner, a tree branch had gone through his arm and leg and he lost a lot of blood.
Sterner later awoke in a hospital, with his family around him.
"Talk about not knowing where you are," Sterner joked. "I had no clue."
He said two Sanibel police officers later came into his hospital room to charge him with three counts of Driving Under the Influence (DUI) manslaughter, with a maximum sentence of 45 years in prison. He was later sent to a maximum-security state prison for three years and was released with a 12-year probation.
"There isn't a day that goes by that I don't think about my friends and what they would be doing right now," Sterner said. "There is nothing I can change about that night, because if I could I would."
According to David Tobergte, captain of University Police, about 40 DUI's have been issued at NKU in the past year and most of them were given at traffic stops, such as Kenton Drive.
At the end of Sterner's speech he offered advice to students: "Life is about making choices, my friends made a bad choice and got in the car with me," Sterner said. "If you're out with your friends and are drinking, call someone or call a cab to come pick you up."