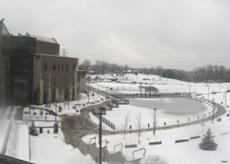 For some students, canceling classes equates to Christmas; for others, it's like a waste of money, but for three Northern Kentucky University administrators, it was a necessity to close the school for two consecutive days Feb. 13 and 14.
While most NKU students were still asleep, University Police Chief Harold Todd, Assistant Vice President of Facilities Management Larry Blake and Vice President of Administration and Finance Ken Ramey were watching the weather and calling area universities, schools and sheriff's departments to determine whether or not to close the school for a full day.
The trio erred on the side of caution, Todd said.
"We were up at 4 a.m.," he said. "It's better to be safe than sorry. Students, faculty and staff probably could've gotten here, but I'd rather be safe."
Most area high schools and the University of Cincinnati, Xavier University and Thomas More College were closed, along with some local businesses and clinics.
"The main concern was ice," Todd said.
At 4 a.m., they had made the decision to keep NKU open, but when the weather called for more ice at 4:30 a.m., Blake said they decided to close.
"We've just been fortunate," he said of the winter weather in the past few years. "It just so happens the snow has hit during breaks."
The university has only closed one other full day since 2004 and has had two half days, including the Feb. 6 closing at 3 p.m.
Road crews worked through most of the Monday, Feb. 12 night to keep sidewalks and roads clear at NKU. The crew of 17 stopped during mid-morning Feb. 13 for a few hours of break. They resumed later that afternoon. Every NKU vehicle capable of snow removal, which is about 10, worked during the ice, rain and snowstorm that hit most of the tri-state.
The blast of wind-driven snow and plunging temperatures hit Indiana, Ohio and Kentucky early Tuesday, Feb. 12 and was the cause for traffic delays, vehicle accidents, school and business closings and flight cancellations. A blizzard warning was in effect until midnight Feb. 12 for counties north of Indianapolis, and up to a foot of snow was possible across Indiana's midsection and parts of Illinois.
As the storm pushed eastward, the National Weather Service issued winter storm watches and warnings extending from Iowa and Missouri across the Ohio Valley into parts of New England. Snow was already starting to fall in the mid-Atlantic states by midmorning.
Cold air dragged southward by the weather system dropped the temperature at Grand Forks, N.D., from 11 below zero at midnight to 20 below at midmorning, the National Weather Service said. Temperatures as low as minus 15 were possible in northern Illinois.
In Chicago, O'Hare International Airport canceled more than 400 flights Tuesday, city aviation department spokeswoman Wendy Abrams said. Midway Airport canceled about 100 flights. A handful of flights also were canceled at the Indianapolis International Airport, and about 20 percent of the flights out of Cincinnati's main airport were canceled because of poor conditions elsewhere, spokesmen said.
* The Associated Press contributed to this story.