Norse women win with large margin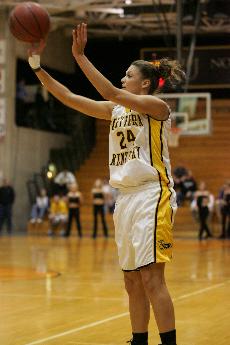 Tim Downer
Each of the 12 players on the University of Northern Kentucky Women's Basketball Team put numbers on the board for a combined score of 93-41, the largest margin of victory this season over Rockhurst University.
NKU, now 15-5 overall and 9-4 in the Great Lakes Valley Conference, traveled ten hours to extend its winning streak to eight.
The Norse soared into halftime with a 45-17 lead, holding Rockhurst to 7-for-28 shooting from the field.
Brittany Winner led the Norse scoring 17 points and grabbing five rebounds. She also made a trio of 3-point field goals and shot 7-for-11 from the field.
"I thought our kids were very focused. We made some jump shots early and played a great first half," said NKU head coach Nancy Winstel, according to NKU Athletics.
"Our players did a nice job of passing the ball, and I really liked the way we were moving the ball."
Cassie Brannen added 12 points, seven rebounds and three assists.
Angela Healy recorded a double-double with 10 points and 10 rebounds.
"It was a good week for us to go on the road, especially this far away, and get two wins," Winstel said.
"A lot of teams do not win twice on the road, so this was a very successful business trip."
The Norse hope to strike down Lewis University's 13-game winning streak 5:30 p.m Feb. 8 in Regent's Hall.
The Norse is ninth in the Great Lakes Region poll as of now, but plan to move up when the new rankings are released Feb. 7.