Men victorious with three-point shooting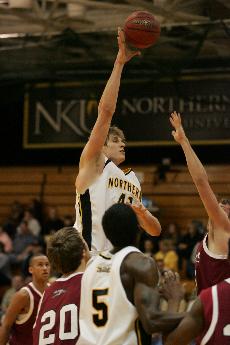 Tim Downer
The Northern Kentucky University Men's Basketball Team put on a three-point shooting clinic as it defeated Rockhurst University, 87-63 Feb. 3.
NKU shot an astounding 60.7 percent from behind the three-point arc, and junior forward Vincent Humphrey connected on a career-high six of seven three-pointers, including five in the first 10 minutes of the ballgame.
The Norse built an early 31-19 lead with the barrage of three-point shots. Things slowed up a bit for NKU as Rockhurst pulled within nine points at the end of the half, 42-33. That was as close as the Hawks would come to narrowing the lead.
The win was necessary for the Norse, (15-6 overall, 8-5 Great Lakes Valley Conference) as it keeps its half game lead in the East Division of the GLVC, with Saint Joseph's College.
"We needed a big win, and we played well," Humphrey said, according to NKU Athletics. "Everyone on our team was hot from the outside in this game. Coach (Dave Bezold) said to shoot it when you get open, and I did."
The Norse shot 17 for 28 from the arc, including 10 of 16 in the first half. The record for three-point shots for NKU is 18 (set back in 1991 against Oakland University, Mich.), which was tied earlier this season against Tiffin University.
The outcome of the Rockhurst game was better than the one earlier in the week as NKU struggled to get any shots against Drury University in its 78-69 loss. This game made Head Coach Bezold pleased with the shots.
"We could not buy a shot during the second half Thursday night, and it seemed like we never missed in this game," Bezold said. "We had good ball movement, found open guys and they were knocking them down from way out. "
Senior forward Anthony Teague hit four shots from three-point range and contributed 14 points in the ballgame. Center James Cripe had two blocks to go along with his 12 points and five rebounds.
Senior guard Steven Wright contributed 17 points and four rebounds also for NKU.
Sophomore guard Billy Finnell had nine assists and seven points for the Norse, as it will host Lewis University, 7:45 p.m. Feb 8 at Regents Hall.