Funny takes the stage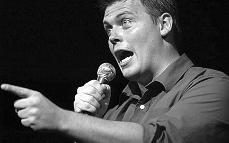 Courtesy of Christian Finnegan
What happens when you put three comedians in a brand new car and send them to a college campus? Find out for yourself at Greaves Concert Hall Feb. 9.
Comedy Central's "Two for Flinching College Tour" will be coming to Northern Kentucky University. The event, which features comedians Christian Finnegan, Nick Thune and Joe Derosa, is hosted by the Office of Student Life and the Activities Programming Board.
"Every show has been kind of weird in its own way," said Finnegan, the show's headliner. "I didn't know either of (the other comics) terribly well, but I feel fortunate that neither of them are douchebags. At least so far."
This is the tour's second year, according to Marisa Trembler, the tour manager for this year's installment.
"We were looking for a comedian, and we just stumbled upon this deal," said Josh Gruenke, a coordinator for the Department of Student Life.
In addition to Comedy Central, KIA Motors is also sponsoring this year's tour. "Kia is very generously one of the sponsors of the tour, and part of the tie-in with that sponsorship is that we get to drive around in this brand-new KIA Sportage," Trembler said.
"I've given the car a name. The car is called Megasus," Finnegan said. Finnegan, who has been playing Guitar Hero 2, unlocked a death metal song by a band with the same name. "I just think the name is so hilarious that I decided to call the car Megasus as a tribute," Finnegan said.
At the end of the tour, the vehicle will be the grand prize of a contest held by Comedy Central. Students can enter the contest at www.comedycentral.com by using their name and e-mail address to have a chance at winning a new Kia Sportage.
"Somebody will get to walk away with a car that we drove all over the country," Trembler said.
Finnegan's no-holds-barred style of comedy has been featured on a Comedy Central special, as well as a handful of other shows, such as TV Land's "Game Time," VH1's "Best Week Ever," and, one of his most recognizable roles, Chad, the only white roommate on "The Mad Real World" sketch from "Chappelle's Show."
Finnegan also released his first comedy album, "Two for Flinching," in October 2006.
"Christian has so many credits to his name," Trembler said. "He is absolutely hilarious."
Also appearing will be Nick Thune, a Seattle-born comic and Los Angeles transplant who uses music in his comic musings.
"Nick Thune is a great comic out of L.A. who has a lot of things on the horizon," according to Trembler. One of the act's main attractions is his use of an acoustic guitar to create interesting and entertaining songs.
"It's kind of different because he does a lot with guitar. It really appeals to that younger age group," Trembler said.
Rounding out the bill is comic Joe Derosa, a New York-based comic who has appeared on several dates with Dave Chappelle, according to Finnegan.
The show will be at 7 p.m. Feb. 9 in Greaves Concert Hall. Tickets, which are available from the Department of Student Life, are $3 for NKU students and $5 for the general public.