Folk artist explores eclectic musical blend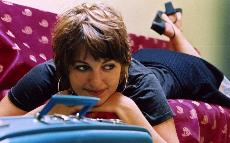 Contributed by Righteous Babe Records
Folksinger Ana's Mitchell's latest installment "The Brightness" is a mellow concoction of poetry and acoustic guitar, a wandering expedition through the city, the countryside and even Greek mythology. As a new recruit to Righteous Babe Records, Ani DiFranco's self-made record label, a lot is expected from this 25-year-old singer/songwriter in her 11- track release.
Mitchell's voice is the most conspicuous aspect of the album, a girlish tremor that renders social commentary and human experience with the candor of a child. You'll either love her voice or won't be able to stand it. Some will find her voice less rewarding than the throaty purr of a blues vocalist or the twang of a traditional country singer, but the unique quality of her vocals sets her apart from the typical folk songsters of today. Unfortunately, that same voice detracts from her genius prose, because her breathy quality sometimes dilutes word pronunciation and makes them difficult to decipher. With another artist, losing verbiage might not be such a setback, but it's a shame to miss a syllable of Mitchell's stunning poetry.
The album's unpretentious melodies provide a simple background, leaving ample breathing room for Mitchell's airy vocals. While the simplicity of the composition is refreshing, it's easy to let the album blend into the background. Also, the pacing is relatively monotonous throughout the album. Some songs are more upbeat and others meandering, but the tempo doesn't vary much. Her songs don't arrest your ears like Natalie Merchant's "Build a Levee." If you're not concentrating, her voice and tunes fade into background noise.
The lyrics are her saving grace, filled with rich imagery and unexpected rhymes. Mitchell's words evoke strong emotions and she has a knack for writing with impact, a trait that likely stemmed from her early inclinations to study journalism.
In fact, Mitchell claims a literary work titled "The Alexandria Quartet" by Lawrence Durrell, inspired most of the album, which might explain the focus on verse and the underdeveloped musical accompaniment. (She only uses percussion in two tracks.) In "Shenandoah," the tune is a cascading warble as she sings "I brought in the winter squash/I brought in the melon/cortland, empire, macintosh/on the afternoon before the frost/I could feel it coming/I can see her now in her flowery clothes/all those things I bought her/trailing her perfume wherever she goes/cross the rolling water," and the mellow undertone of accompanying vocalist Ben Campbell is a perfect counter in the chorus.
Mitchell was born on a Vermont sheep farm, but she's traveled the world and her social commentary is not lacking. Worldly artists often reflect on the pitfalls of the human condition with cynicism and dry humor, but Mitchell rejects a jaded perspective. Each song is engendered with a sense of worship and wonder for humanity in all its spoiled glory. In "Hobo's Lullaby," she reflects on how the mechanisms of society steal the dreams of an honest worker; yet, her diatribe is not without hope as she sings, "and though the hounds come round your doorway/and though the viper's at your heel/well you can dream your rags to riches/on a stitch of gleaming steel/on a shining reel-to-reel."
Mitchell lets her verse and her voice wander through each track with a carefree lilt. In the end, the album is a success, though sometimes lacking in vocal clarity and catchy rhythm. "The Brightness" will be released Feb. 13.