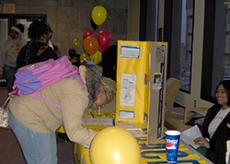 In honor of the start of Black History Month at Northern Kentucky University, student organizations and vendors set up a marketplace in the University Center lobby.
On Feb. 1 the "Marketplace Celebration" allowed vendors to sell different types of custom-made jewelry, baskets and artwork.
"I thought since the jewelry and art was so genuine, it was a great way to kickoffBlack History Month," said Lewis Jones, lead coordinator for Black History Month Programs.
The second floor of the UC was lined with booths from student organizations to show events they will sponsor during Black History Month.
According to Jones, several speakers are scheduled for February. Jeffrey Johnson also known as "Cousin Jeff" from Black Entertainment Television (BET), is scheduled to speak Feb. 8.
"He is coming like most speakers do: To come speak about their experiences, to speak about life's importances and just to celebrate life," Jones said.
A panel called "Brown vs. Board of Education: Is the jury still out?" is set for Feb. 14 and is sponsored by Chase Law School.
"The panel is about the decision and ramifications from what happened in 1954 and the education of all students, not just African American students," Jones said.
Brown vs. Board of Education ultimately ended racial segregation in public schools on the "separate but equal" doctrine that, in turn, couldn't provide black americans with the same opportunities as white Americans.
The annual "Soul Food Fest" will be Feb. 20 in the UC Ballroom. This event will allow people to bring in different plates of food and dine on "delectable dishes prepared to please your palate," according to event's description.
"(Black History Month) is a nice opportunity for us to have these events, some are just for fun and there are other events for learning experiences and student enrichment," Jones said. "I think when students have more fun they take more of a interest in their college experience in general."
Black History Month is sponsored by African American Student Affairs and Ethnic Services, Alpha Kappa Alpha, Delta Sigma Theta, Anointed Voices Gospel Choir, Kappa Alpha Psi, Black Women's Organization, NAACP, Ebony Fire, Alpha Phi Alpha, Black United Students, Black Law Students Association and Black Faculty and Staff Association.
For a listing of Black History Month events, keep checking our campus calendar each week.