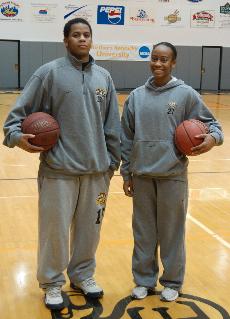 Justin Reynolds
Sibling rivalry isn't a problem for brother and sister Billy and Keri Finnell. They're both juniors, have been playing basketball since grade school, and now they both play for Northern Kentucky University's basketball program.
Billy is the starting point guard for the men's basketball team and has made a large contribution to the program. He is a red-shirt sophomore, meaning he did not play his first year in college. Billy was named Freshman of the Year in the GLVC last season.
Keri attended the U.S. Military Academy Preparatory School for a year after high school graduation. She tore her there and has been struggling with injuries ever since. Keri also red-shirted her freshman year and is now healthy in her third season on the NKU basketball team.
Keri and Billy also hold records at Purcell Marian High School in Cincinnati; Keri is the all-time leading scorer with 1,598 points and Billy is the all-time assist leader with 279 assists. and younger brother Nigel is chasing the assists record. Billy was also Greater Catholic League Player of the Year in 2003-2004 and started varsity his freshman year.
Keri and Billy's family have been their backbone.
"Every game we played was a family event," Keri replied.
In addition to playing basketball, Billy and Keri both played soccer because their dad really liked the sport and wanted to see them play. "Dad pushed us to stay active and keep working hard at anything we did," Billy said.
"We compete on the floor for our teams and not with each other," Billy said. Even when they were younger they weren't competitive with each other. "We played many one-on-one games when we were younger and Billy won most of them," Keri said. "Of course I wanted to win, but the idea was just to keep playing and shooting and getting better at our individual games and not on beating each other."
Keri and Billy are excellent players but they use different techniques. Billy uses his strength to his advantage, as well as his knowledge of the game. He plays point guard and said seeing the entire floor is huge for him. "I enjoy passing the basketball and being unselfish," Billy said.
As for Keri, she had to make a transition from being a shooting guard in high school to being a point guard at the college level. "It was a change for me, but I feel comfortable with the role and feel like I'm making better decisions on the court," Keri said.
Not everything is basketball for the two. They agreed their studies are much more important than basketball and both spend most of their free time on schoolwork. Billy is a criminal justice major and Keri is a math major, and they credit their coaches for emphasizing schoolwork.
"Coach Winstel really cares about all of her players and her number one concern is for us to get our degree," Keri said.
As for Billy, he says Coach Dave Bezold preaches hard work and mental toughness on the basketball court and in the classroom.
"You must always believe in yourself and your teammates and think you can win it all. Why else would you be out there playing if you didn't believe that?" he replied.
As for Keri, she thinks the women are just getting into their rhythm. After a 27-5 season last year, the women lost five games early on, but have been playing much better. The women have a huge game coming up Feb. 8 against Lewis University. Keri feels a win would definitely help the Norse's cause for a GLVC conference title.
When asked what the hardest thing about being a student athlete is, both had similar feelings that time management is very important.
"I make sure I set time up for homework and working out and that doesn't even count are usual two hour practice a day as a team," Billy said. He is keeping an open mind after graduation, but hasn't ruled out coaching somewhere after he graduates. As for Keri, she has thought about getting into the insurance business in some capacity once she graduates. Keri and Billy are juniors, but still have two years of eligibility left in their basketball careers.
"We have been given a tremendous opportunity and we are going to work hard to take advantage of that opportunity," Billy said.