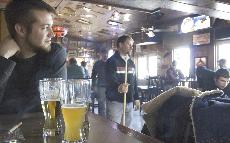 Nicole Jones
Just beyond Regents Hall and Lucas Administrative Center is a historical landmark in Northern Kentucky.
It's not a museum or statue erected in honor of a famous person, nor is anyone paying admission to enter through its doors. The landmark is a bar that Northern Kentucky University students have been frequenting for almost 40 years.
Skyline Tavern, located on Johns Hill Road, has reopened its doors after more than five months of closure. The bar closed Aug. 3, 2006 after long-time owner Billie Sandhas passed away. Now that the bar officially reopened its doors Jan. 24, students, such as Daniel Robinette, are breathing a sigh of relief.
"I have hung out here for years and now I'm back," said Robinette, a senior anthropology major who attended the bar frequently. "This whole area needs this place."
Robinette said the people, food, staff and friends are what keep him coming back every week.
Other students feel the same about Skyline Tavern, as evidenced by a group on the Web site Facebook.com. NKU students started a group titled, "Skyline Tavern Brew Crew," which describes why the group was formed for interested members: "This is for everyone who not only loves Skyline Tavern, but treats Skyline Tavern like a second home."
After Sandhas passed away, Skyline Tavern closed without a scheduled re-opening date, Jennifer Sandhas, the former owner's daughter-in-law, said. She said now, with new management and family involvement, Skyline Tavern is here to stay.
"We just wanted to offer Skyline back to NKU," said Tom Beal, the new co-owner of the tavern. "It was worthwhile to give it a shot."
Beal is one of three owners of Skyline Tavern. Jennifer and Dave Sandhas, the former owner's son, decided that reopening was something Billie Sandhas would have wanted.
"We wanted somebody to take over. Billie enjoyed it so much," Jennifer Sandhas said.
The tavern is even in talks about starting a college night with a happy hour available for NKU students. That change could happen as early as next month Beal said.
The bar was erected in 1941 by Clifford Guddorf (Sandhas's father), during a time when Northern Kentucky had minimal housing and was mostly rural.
"This place is rite of passage," said Robinette. "Students were coming up here before I was born."