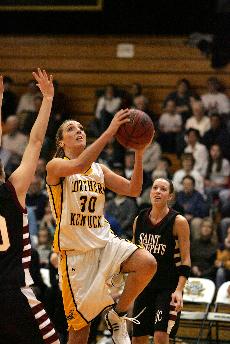 Tim Downer
The Northern Kentucky University Women's Basketball continued its winning streak to six, with a 79-54 victory over Saint Joseph College of Indiana Jan. 27 at Regents Hall.
Sophomore Cassie Brannen proved to be the deciding factor in the game as she was perfect from the floor, going seven for seven on field goals and three of three from the charity stripe. She scored 17 points and had seven rebounds, giving NKU a record of 13-5 and 7-4 in the Great Lakes Valley Conference. The win put NKU into a two-way tie for second place in the East Division with Bellarmine University.
NKU Head Coach Nancy Winstel was pleased with Brannen's level of play, in games when she scores in double figures, the Norse are 5-0 this year, according to NKU Athletics.
"I think Cassie is one of the best kept secrets in the GLVC. If you were at the games in which we've had big wins, Cassie has had a big game," Winstel said.
Junior center Angela Healy also contributed 14 points from the floor, including five rebounds and four assists.
The Norse bench proved pivotal in the game as it contributed 37 of the 79 points in the game. Senior center Katie Butler came off the bench, scoring 10 points and providing three of the 11 blocked shots by NKU.
"It's good to get everyone in," Brannen said after the game. "These girls work really hard in practice and it just shows how strong this team is."
Sophomore guard Keri Finnell scored a career high nine points against SJC. The NKU bench took over for the starters near the end of the first half, finishing with a score of 42-12.
NKU shot over 65 percent in the game and held the Pumas to a dismal 20.8 percent shooting.
Saint Joseph's has struggled this season, as its record has fallen to 4-14 overall and 1-9 in conference play. The Pumas cut the lead down to 21 points, but could not get a consistent offense during the game.
Next for NKU is a road game Feb. 1 at Springfield Mo., taking on rival Drury University, which currently leads the West Division. The game will be a rematch of last year's GLVC Tournament Championship Game, in which the Norse won 86-73 over the Panthers, according to GLVC.com.
NKU will also go on the road Feb. 3 to play Rockhurst University, before coming home for four consecutive games.