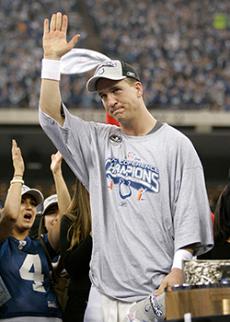 Michael Conroy/AP Photographer
Two good friends who happen to be NFL coaches are already front-and-center in this Super Bowl, and kickoff is still two weeks away.
Lovie Smith became the first black head coach to make it all the way to the NFL's marquee game Sunday when his Chicago Bears won the NFC championship.
About four hours later, his pal and mentor, Tony Dungy, joined him there when his Indianapolis Colts took the AFC title.
For the first time in the big game's 41-year history, not one, but two black head coaches will be on the sidelines.
"It means a lot," Dungy said after a 38-34 victory over the New England Patriots. "I'm very proud to represent African-American coaches."
Smith earned his trip when the Bears (15-3) beat the New Orleans Saints 39-14.
"I'll feel even better to be the first black coach to hold up the world championship trophy," Smith said.
It won't be easy, though, especially the way Peyton Manning and the Colts (15-4) are playing.
Manning has been dogged for years by critics who said his greatness was diminished by the fact he couldn't win a big game. After leading his team back from an 18-point deficit, the Colts quarterback finally has the chance – on football's biggest stage.
"It sounds good," a beaming Manning said. "It really does."
Smith and Dungy are breaking new ground for black coaches in the league, much like Washington's Doug Williams did for black quarterbacks in the 1988 Super Bowl.
"Being the first black coach to lead this team, of course our players knew about it, and they wanted to help us make history," Smith said. "So I feel blessed to be in that position."
Smith was one of Dungy's assistants when the two were with Tampa Bay from 1996-2000, and they established a friendship that has grown in the years since. Now, the two buddies will go to the Super Bowl – with the chance to win a championship.
"We have to play someone, and, in my perfect world, I would like to see the Colts be that team," Smith said after the Bears won. "Tony Dungy has done an awful lot for our game. He hasn't had a chance to coach in the Super Bowl. I would love to see it."
Now everyone will get that chance.
When Dungy started in Tampa, there were just three black head coaches in the NFL.
This season, there were seven. Now, there will be two in the Super Bowl.
"Any time you're the first person to do anything, regardless of your race or anything like that, it's special," Bears running back Thomas Jones said.
Chicago will play for the NFL title for the first time in 21 years, after Mike Ditka's Bears shuffled through the regular season and playoffs and routed New England.
This year's Bears team put up one of the league's most impressive records during the regular season. Unlike those dominant '85 Bears, this year's squad was second-guessed nearly all season.
"We've overcome a lot of doubters, but we're here, we made it and it's definitely a great feeling," Jones said.
Whether it was the mediocre play of quarterback Rex Grossman or the sudden vulnerability of its traditionally tenacious defense, few believed the Bears had what it took to get to Miami.
None of that matters now. Not after the Bears made enough big plays on defense and used a steady running game in the sleet and snow of Chicago to beat the Saints.
"This is why we play the game, to get to the Super Bowl and win," All-Pro linebacker Brian Urlacher said. "This overshadows everything."
Manning and the Colts know the feeling. The All-Everything quarterback from one of football's most talented families had two league MVP titles and a handful of records but never even got a shot at a Super Bowl ring.
"It could still be, 'Can he win a Super Bowl?' and then if he does, everyone will shut up," Dungy said.
After beating three-time Super Bowl winner Tom Brady and the Patriots, Manning finally has that chance to silence his critics.
"I don't get into monkeys and vindication," he said. "I don't play that card. I know how hard I worked this season, I know how hard I worked this week. It's always nice when you can take the hard work, put it to use and come away with a win."
Smith and Dungy already have sealed a huge victory for minority coaches, regardless of who brings home a championship.
"I'm happy for both coaches," Colts defensive end Dwight Freeney said. "I hope we get to the point we don't have to hear about it."
Assoicated Press Video
Click here to watch video.