Akon shows soft side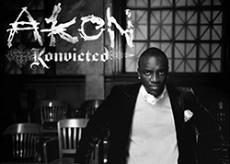 Akon's newest album, "Konvicted," is an essential for every rap and R'B music lover's collection, from wanksta's to straight up gangsta's.
Whether it's a fast-paced club hit like "Smack That" featuring Eminem or even a slower, more intimate hit such as "I Wanna Love You" featuring Snoop Dogg, Akon continues to impress with his musical talent.
Each song on this 12-track album has its own unique feeling and style. Akon wrote, arranged and produced 11 of these songs himself-commendable, considering so many artists don't write their own stuff. Akon puts a part of himself in each of his songs.
In "The Rain," Akon writes about his career: "Now it's been months out on the road, on tour doing so many different shows, head spinning feeling like it's gonna explode, and I just wanna know if anyone out there is feeling me, I'm losing my mind and I can't believe, I let this shit get the best of me."
Another song Akon puts his heart into is "Mama Africa." This song, while touching on the painful subject of slavery, is all about love. Akon talks about the love he has for Africa, showing everyone needs to let their soft side show, even if it's only for four minutes and 25 seconds.
While "The Rain" and "Mama Africa" are two solid tracks, there is one hit that needs to be recognized-"Smack That," featuring Eminem.
If this upbeat and totally bangin' rap sensation doesn't get you out of your seat, then you better take the time to re-define your taste in good music. If you love this song, then check out the music video, it's off tha' chain.
I feel compelled to give Akon's newest album "Konvicted," an eight out of 10.