Students get their freestyle on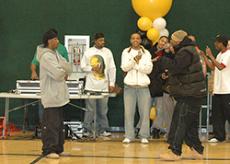 Four Northern Kentucky University students waged a war of words in the Albright Health Center Jan. 22 in the fifth annual Freestyle Battle.
Students who participated in the battle improvised raps in order to one-up their opponents. Cash prizes up for grabs were $150 for first place, $100 for second and $50 for third. Contestants were judged based on crowd response.
First place went to University of Cincinnati senior criminal justice major Jason Waller. "I've been rapping ever since I started talking," Waller said. "I won the battle here last year and I plan on participating in the Apollo this year (at NKU)."
As for second place, the $100 went to freshman computer science major Mandel "Swiss" Kilgore. This was Kilgore's first year participating in the battle. Kilgore has been freestyle rapping since high school. Although he was relieved to see the battle end, he still plans on winning next year.
Third place winner freshman business management Andrew "Drew C." Campbell has been rapping since the age of 15, and used to perform to family and friends in his hometown of Louisville, Ky. "It feels great. I just went out and did my thing," Campbell said.