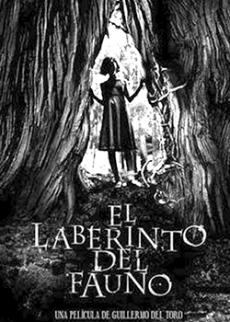 Courtesy of Picturehouse
In Guillermo del Toro's award-winning "El Laberinto del Fauno" (Pan's Labyrinth), reality and illusion court one another in an intimate macabre dance. A dark fairytale, the film interweaves elements of horror and drama. Acts of heroism are offset by graphic torture scenes. Fairies and bizarre creatures offer guidance while their human counterparts brutally kill any who resist their authority. Through a world of legend, a little girl attempts to understand a world of cruelty and oppression.
Commanded by her new stepfather, 12-year-old Ofelia and Carmen, her pregnant mother, move from the comforts of city life to the war-torn hills of northern Spain. It is 1944, and the Spanish Civil War has ended. However, a band of rebels living in the hills resist the dictatorship of the fascist regime. It is the duty of Ofelia's stepfather, Captain Vidal, to rid the hillside of the rebels and their supporters – through any means necessary. When faced with the harsh loneliness of her new home, as well her mother's difficult pregnancy, Ofelia escapes into a world of sprites and lore. The entrance into the underground kingdom, however, is guarded by an old, but wily faun, and Ofelia must successfully complete three tasks before she is granted access. Along the way, she meets new and terrifying creatures while the risks increase with each task.
Superb acting brings each character to life in vivid color on a canvas of gray. Ivana Baquero plays the imaginative Ofelia with a maturity and self-assuredness well beyond her 12 years. Sergi Lopez is formidable as the malicious Captain Vidal, haunted by his father's expectations. Maribel Verdu commands respect with her portrayal of the fearless housekeeper, Mercedes.
The movie is in Spanish with English subtitles. However, rather than detracting from the movie's appeal, it actually adds to it. Like any good storytelling, the language flows from one scene to the next without feeling anything was missed.
After watching "Pan's Labyrinth," one gains an appreciation for color. The background for the movie is simply dark. The dominant colors are neutral grays and blacks, and shadows hang over much of the set. When the viewer does catch a glimpse of color, it's as striking as Dorothy's first step into Oz.
"Pan's Labyrinth" is an adult fairytale. With its intense torture scenes, graphic violence and dark themes, it is certainly not for the squeamish. If you are looking for a lighthearted tale of make-believe kingdoms and sugar-plum fairies, this is not the movie for you. For all others, prepare to be disturbed.