C-Store puts late night menu to bed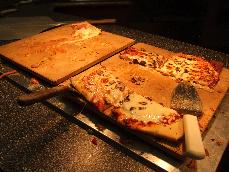 Northern Kentucky University residential students are no longer able to buy a pizza, quesadilla or any other cooked menu item at the on- campus C-Store. Now their only on-campus options are sandwiches, salads, or fruits and vegetables.
The C-Store took down its menu that offered these hot items and as a result the Norse Commons Cafeteria extended its hours until 10 p.m., which is a change that has upset many students.
"I don't understand why they did it," said freshman Caleb Myers. "It seems like it would cause them to get less business than before since so many people went there."
However, Edward Devoid, senior director of dining services at Chartwells, views the change differently. "When the dining room got renovated, we kind of thought to utilize it more," he said. "Most schools run their dining room later, so we thought to open ours up late."
According to Courtney Murphy, marketing manager for Chartwells, in an attempt to get more students to eat at Norse Commons, the quality of food has been increased by adding more spices and protein as well as having a carbohydrate-controlled menu. Canola oil has replaced trans fat oil and the company is doing away with processed food.
"We have also made more choices for vegetarians and vegans," Murphy said. "They will have the choice to add tofu to their meals if they want to."
Devoid said that along with improving the quality of food in the Norse Commons, they are also looking to better the meal plans.
"There will be more choices at more places more often," he said. "We are working on meal plans outside of the Commons to be a point and dollar system. There wouldn't be any restrictions."
Devoid said Chartwells hopes to turn the C-Store into an actual convenience store, where students will be able to use their meal plans to purchase almost anything.
"We are looking into what makes the customers happy," Devoid said. "We want to make sure the majority is covered."