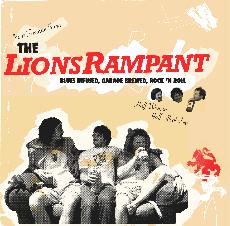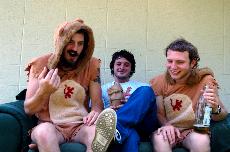 At first glance, a band where two members perform in homemade lion costumes might seem like something intended for children, but first impressions can be misleading. The Lions Rampant, a three-piece Northern Kentucky band, is proof that the lion is still king of the jungle.
The band of former NKU students, comprises Stuart MacKenzie on guitar and vocals, Paul Bunyon on bass and vocals with Alex Brauer keeping the beat, released its debut EP "Half Women Half Alcohol" at the Northside Tavern Jan. 6.
The crowd gathered for The Lions Rampant's show was extremely large, and a bit too big for the venue; something every band loves to see.
"I've never seen a place so packed. I was on cloud 9," MacKenzie said. MacKenzie was even happier when several NKU students made the drive to see the show. "It was a good mix of people we knew."
The Lions Rampant then took the stage, lion costumes and all. "It really helps to get into character to rock out and not take ourselves too seriously," MacKenzie said. The band's set was an entertaining blend of stripped down rock, blues grooves and a classic punk rock undertone. The music alone seemed to make time go faster, resulting in the feeling that the band's hour-long set went by in the time it'd take to get a drink from the bar.
"We went on kind of late, so everyone was almost drunk, so that probably helped too," MacKenzie added.
This live energy the band exuded at The Northside Tavern is captured on its debut EP "Half Women Half Alcohol." The six-song disc was recorded in a trailer in Burlington, Ky., but you'd never know it. It can be picked up at a Lions Rampant show, downloaded from the band's Web site www.thelionsrampant.com, or at a slew of local independent record stores including Shake It Records, Phil's and Rumble Records. The EP's self-described "blues infused, garage brewed, rock 'n' roll" just can't be said any better.
The guitar is gritty, the bass thumps and the drums hold it all together. They perfectly blend into a muddy mish-mash of tunes that will get your head bobbing and your toes tapping without even realizing it. The EP begins with the song "Legs," and just 30 seconds in you're molested with dirty rock sounds that are unlike most music you can hear over the airwaves today.
If the EP title hasn't given it away yet, "Half Women Half Alcohol" is about just that. The songs all deal with a women, love and, as it clearly states, alcohol. The lyrics flow with the music and work to give the songs an impressionable personality, which is one of this band's defining features. "It sounds like a party, and it has, like, that garage band feel to it," MacKenzie said.
The only bad thing about this disc is the silence you hear when it's over.
With only six songs, all of which are shorter than four minutes, the disc will leave you wanting more. More music, more beer, and yes, even more of the lion outfits. The band is playing Jan. 26 at the Courtyard Caf