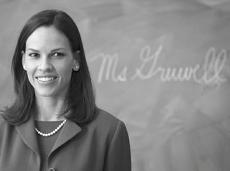 Courtesy of The Associated Press
While it may be every teenage boy's dream come true to have Hilary Swank as a homeroom English teacher, the students in Woodrow Wilson High School's Room 203 didn't see her that way.
"Freedom Writers" chronicles the true story of Erin Gruwell (Swank), an idealistic and naive young teacher who goes to work at a recently integrated Los Angeles high school. It's 1994 and the city still reeks from the anger and hate that inflamed the 1992 Los Angeles race riots. Like so many of us, Erin wants to change the world. She plans to end racism one young delinquent at a time.
However, the kids soon give "Ms.. G" a reality check. After the first day, Erin realizes the seriousness of the problems she has to tackle. Resolving issues with race, prejudice, domestic abuse and gang violence aren't as simple as she thought. While she attempts to teach her students about Homer and Shakespeare during the day, the kids go home at night dodging bullets and dealing drugs.
The students hate each other both in and outside the classroom. Many of the freshmen she teaches have served jail time, been shot at, and most have lost friends to the gang violence that dominates their lives (except for the token white kid).
When two of her students witness a race-related murder, Erin decides it's time to take action to stop the madness. By introducing her students to The Diary of Anne Frank and urging them to keep journals about their lives and struggles, Erin begins to break down the barriers.
Director Richard LaGravenese's production is raw and a little unfinished. Most of the actors who play students were chosen for their real-life connection to the issues faced in the film. The movie doesn't have the glitz of sophisticated cutting and editing, (looking like the relatively low-budget film that it is); but, in the end, that raw edge gives it heart-wrenching reality.
Superficially, this movie looks a whole lot like the last classroom drama you've seen. (Remember Criminal Minds and Light It Up?) This one's different. It packs a powerful punch that rings true, even for Northern Kentuckians. As Erin challenges her students, the movie challenges its viewers to take another look at the racial problems that underlie many of society's violence problems.
For two hours, I felt like the lone white kid in that class who grew up sheltered by the few miles that separated me from the inner city and the ghetto. This movie, more than any race and gender course, helped me to understand, sympathize and relate with people who live and function in a completely different world.