Remembering his dream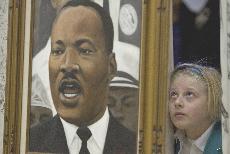 Troy Maben/AP Photo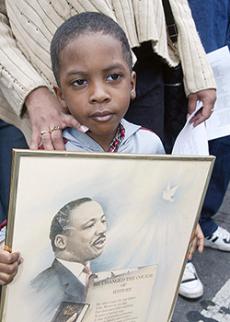 Ryan Smith/AP Poto
Dr. Martin Luther King Jr. gave his "I have a dream" speech 44 years ago during the March on Washington in the Civil Rights Movement, and he is still in the hearts of millions today.
Jan. 11 marked the beginning of the Martin Luther King Jr. celebration at Northern Kentucky University. The first speaker during the "Evening of Reflection" was Joe Rogers, former lieutenant governor of Colorado and the creator of the Dream Alive Program.
Rogers spoke about the Civil Rights Movement and different prominent events that shook the country during that time. One event Rogers talked about was in 1963, when four young black girls were killed in the bombing of the Sixteenth Street Baptist Church in Birmingham, Ala.
"That bombing came just two weeks after the 'I have a dream' speech. That was when the world said, 'I've had enough.' Why would someone aim this at four little girls?" Rogers said.
Rogers also spoke about occurred on April 4, 1968, the day of King's murder. King was shot as he was looking over the balcony at the Lorraine Motel in Memphis, Tenn. Rogers even re-enacted how King's body looked on the balcony.
"Martin Luther King Jr.'s death is not the end of of the story," Rogers said. "Is the dream alive? The ultimate determining factor is you."
NKU's Anointed Voices Gospel Choir performed during the "Evening of Reflection."
Jan. 12 marked the second day of the King celebration with civil rights activist Dr. Rev. Fred Shuttlesworth.
Shuttlesworth had been jailed more than 35 times during the civil rights movement and was violently attacked and stabbed by members of the Ku Klux Klan. He also had his house bombed, but still continued working closely with King.
"I didn't think I would live to be 40 years old," Shuttlesworth said. "I feel like I haven't done enough; some people call me crazy."
"Shuttlesworth is synonymous with civil rights," said NKU President James Votruba, who introduced Shuttlesworth. "He still has a fire in his eyes to advance the power of justice in society."
Never before published pictures from the Civil Rights Movement were shown during Shuttlesworth's speech. One of the pictures included Shuttlesworth after members of the KKK had just bombed his house.
"The whole wall next to my head was demolished. The roof almost came down on my bed," Shuttlesworth said. "God made me dynamite proof. Three hundred and fifty slivers of wood was stuck in the inside wall. I didn't get a scratch."
One picture displayed Shuttlesworth with two black boys when they were turned away from an elementary school. Others showed him challenging the segregation laws by riding with the white passengers on a city bus, another showed him preaching in his church in Birmingham.
In his speech, Shuttlesworth also spoke of his relationship with King.
"I knew Martin personally. He really believed in non-violence. He would sit and listen to everything. I wish I could have been as nonviolent as Martin," he said.
Shuttlesworth ended his speech by giving young black men advice to "stay out of trouble."
"Martin said you might have to talk bad to people who talk bad to you," he said. "I always tell young folks the journey of a thousand miles begins with the first step."
African American Student Affairs, Black United Students and Alpha Phi Alpha Fraternity coordinated this event.