Hot Seat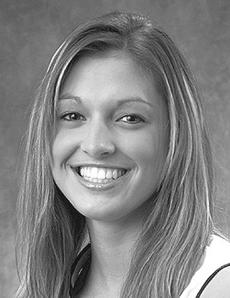 Karyn Creager is a senior guard/forward on the Northern Kentucky University Women's Basketball Team. Karyn just recently set the record of 33 consecutive free throws, breaking her record of 27 she set two years ago. She is this week's guest on the Hot Seat.
Tim: Karyn, this week you play two very tough away games against Kentucky Wesleyan and Southern Indiana. How do you match up against these teams? Karyn: Kentucky Wesleyan is a very good team, they are second in our division, so this is a huge road game for us. Their perimeter players are very quick and like to go hard to the basket and try to draw a foul, but they can also really shoot the ball from the outside. They also have an athletic post player, Henry, who they look to get the ball to inside. On Thursday we need to be very active on defense and really move our feet so we don't put them to the line, as well as being aggressive on offense.
Tim: The team has 12 games left, not including the GLVC tournament. How well would you say the team is playing now? Karyn: We have had our ups and downs this season, but right now we are coming off of two conference wins so I think we are getting more confidence in ourselves. We are very team oriented, and we are playing well together. We just need to keep working on keeping our defensive intensity up for the whole 40 minutes, and really move the ball on offense. I know we are capable of doing big things, and I don't think we have really shown that yet.
Tim: Where is the toughest place to play in the GLVC? Karyn: I would say all road games are tough. But for some reason, we always have a hard time playing at Wisconsin Parkside, in my four years here, I don't think we have had a good game there yet.
Tim: In high school you made 37 straight free throws and now at NKU you hold the record of 33 straight. Why are you so good at making the shots? Is there a special technique you use? Karyn: Well, I can't take all the credit for breaking those records. I have had many great rebounders in the past who have helped me accomplish that. My dad, brother and grandpa have definitely put in countless hours of rebounding foul shots for me, and I'm very grateful for that. Before shooting my free throws, I don't do anything too special, I just try to relax. I take two dribbles, take a deep breath and shoot it.
Tim: What made you come to NKU to play basketball? Karyn: I was really interested in coming to NKU because they had such a great basketball tradition and have been so successful in the past. When I came on my visit, the team, coaching staff and everyone in the athletic department was so friendly and down to earth.
Tim: Besides the free throw record, what other accomplishments would you like to be remembered for at NKU? Karyn: I think I would also like to be known for my hard work and dedication.
Tim: What do you see in your future after basketball and NKU? Karyn: After graduating this May, I'm moving back home and I'm doing an internship at BGSU with their strength and conditioning program. In the future, I hope to get my Masters in exercise science, raise a family and pursue my career in personal training.
Tim: What is your favorite road trip in the GLVC? Karyn: My favorite road trip would have to be the GLVC conference tournament and the NCAA tournament. Its such an exciting time and everybody is so fired up to play.
Tim: How many wins do you see it taking to get invited to the NCAA tournament? Karyn: I don't know how many wins it will take, but we can't be concerned about that. These next 12 games, we need to be focused on playing hard and playing every game like it is our last. If we come out and play like we are capable, wins will follow.
Tim: Karyn, how do you get mentally prepared for a game? Karyn: Before games I really don't do anything special, I just try to relax. Before the game, I say a prayer, and then just go out on there and play hard and have fun.