Groups host first Pro-Life Day on campus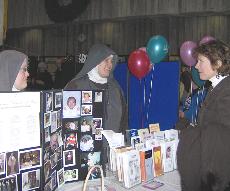 In an effort to raise awareness, the members of Northern Right to Life (NRTL) created the first ever Pro-Life Day in Northern Kentucky University's history.
On Dec. 8, booths from local pro-life groups, area crisis pregnancy centers and other student organizations that support the right to life cause were set up in the University Center. Some of the organizations include Mercy Maternity home, Franciscan Daughters of Mary, and Catholic Social Services.
According to Marissa Caldwell of NRTL, Pro-Life Day was purposely planned to be on the Feast of the Immaculate Conception. A prayer service to celebrate the feast was held in the Otto Budig Theater.
Clare Ruehl of the Pro-Life Commission Diocese of Covington said Mary is the patron saint of life, which is why it means so much to have Pro-Life Day on her feast.
Pro-Life Day held events all day featuring speakers who had had an abortion, had a significant other who had an abortion or are pro-life activists.
Angela Minter, from Louisville Sisters for Life, had two abortions when she was younger and was $20 short of aborting her third child.
"After giving birth to her daughter she realized the extent of her mistakes and how deeply affected she was by her abortions," said Callie Armstrong, public relations chair for NRTL. "After taking two of her children's lives she wanted to get the word out that their lives should not be her choice."
NRTL also wanted to show abortions not only impact women, but men as well. One speaker, Carl Allison from the Covington Diocescan Commission, was in college when his girlfriend had an abortion without coming to him first.
"Allison highlighted the fact that men are very affected by abortion and this is often looked over in the abortion debate," Armstrong said.
Rachel Westwood, a pro-life activist and daughter of Cincinnati Right to Life President Paula Westwood, claimed Planned Parenthood lies to its patrons and it needs to be exposed.
"Rachel was important because we all often assume that what we hear from Planned Parenthood is a fact," Armstrong said. She states that if someone would research half the facts about Planned Parenthood it soon becomes apparent they are not telling the truth about the abortion process.
Pro-Life Day was planned by NRTL, The Catholic Newman Club and the Covington Pro-life Commission.
"We got support from surrounding area organizations involved in the pro-life movement and helping pregnant women and families," Armstrong said.
"We felt like Pro-Life Day would be a good way to show people that they have other options other than abortions if they were to become pregnant," Armstrong said.
"Seeing several organizations that are willing to help financially and emotionally lets women and men know that should the need arise, they have the support in the area that is willing to help them out so they don't feel trapped to abort their child."