Governor brings town hall to Budig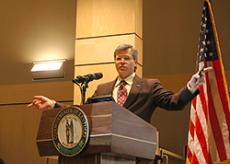 University officials, community members, students and legislatures filled the Otto Budig Theater Jan. 9 to share with Gov. Ernie Fletcher how they feel the state's surplus should be spent in 2007.
An estimated $279 million will be available for allocation this year due to healthier statewide economy with more jobs, more revenue and an increasing population.
"We're here because it's your money and your priorities," said Fletcher, who is spending time traveling throughout Kentucky to hear how constituents feel the surplus should be spent.
Kentucky Budgeting Director Brad Cowgill explained the state's budget as a marriage between needs, which are unlimited, and funds, which are limited.
"We're prioritizing our needs, that's why we're here tonight," Cowgill said. "The budget is the state's ultimate expression of where its value is."
Cowgill stated the night's objective for the crowd: To listen. "It's you, not (Fletcher), with the answers," he said.
But Fletcher came to the Northern Kentucky University "town hall" meeting with some suggestions of his of own. His suggestions included return the surplus to Kentucky families, save it for a rainy day, strengthen public retirement programs, broaden access to health care, use some for social worker safety, invest it in Kentucky's public schools and make college more affordable.
Three years ago, when Fletcher took office, he cut $302 million of spending in the state, namely post-secondary education as a way to save the state's deficit.
"Dr. (James) Votruba remembers that pain vividly," Fletcher said.
Votruba opened the meeting with kind words toward Fletcher and the Northern Kentucky caucus. He pointed out progress on the Bank of Kentucky Arena, the Student Union and the planning stages of the new College of Informatics building.
"These are a testament to you and our caucus," Votruba said. He also mentioned an area mission: Vision 2015 as a way to make the area a "mecca for talent" by improving facets of Northern Kentucky.
Community members came to the meeting with suggestions for the governor on ways to spend the money. Representatives from the Boone County Schools system advocated for funds for a new elementary school. A Cincinnati resident asked for some of the surplus to be allocated so she can bring her bulletin boards campaigning for citizens to report drug activity anonymously to Kentucky.