Winter commencement set for Dec. 16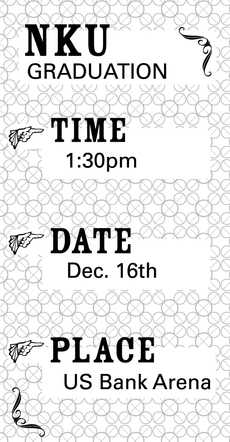 Ceremony
Graduates are required to arrive at the U.S. Bank Arena no later than noon Dec. 16, 2006, and enter the assembly areas inside the arena through the street-level doors off Broadway Street.
Once arriving at the arena, graduates need to obtain a name card indicating where to be seated according to college and degree.
The first 70 to 80 graduates in line in the College of Arts and Sciences will be asked to carry flags to the stage, where they will be handed to the flag handlers for display on the stage. Graduates will then be directed to their seats on the arena floor.
The entire ceremony is expected to last approximately two hours.
Parking
U.S. Bank Arena is located on the Ohio River next to the Great American Ball Park.
Parking is available for a fee in the East Garage, adjacent to U.S. Bank Arena, in lots north and east of the arena, or at other locations in downtown Cincinnati.
Graduates are encouraged to use the Western-Southern garages located two blocks north of the U.S. Bank Arena at Third and Broadway streets and at Third and Sycamore streets.
Take the stairs from the street level to the Concourse level of the U.S. Bank Arena. Enter the arena at the doors by the Box Office.
If parking at the public landing next to U.S. Bank Arena, be sure to park in a legal parking spot.
Guests
Guests should enter U.S. Bank Arena at the Concourse level gates. Please do not enter through the Graduates' Entrance on Broadway or proceed to the floor level of the arena before or after the ceremony.
The U.S. Bank Arena Security Lot entrance at the corner of Broadway Street and Mehring Way is to be used for handicapped access only.
No tickets are necessary for commencement. Seats will be available on a first-come-first-served basis.
The ceremony will begin promptly at 1:30 p.m.
Diplomas
Diplomas will be mailed after Jan. 15, 2007. To ensure graduates receive their diplomas in a timely manner, they should go to Norse Express to verify the Registrar Office has the correct permanent mailing address.
The permanent address on record, whether in or out of the country, will be used as the mailing address for all diplomas.
Questions concerning diplomas should be directed to the Registrar Service Center at (859) 572-6427 or (859) 572-6625.