Truck driver convicted in deaths of 19 illegal immigrants in Texas smuggling case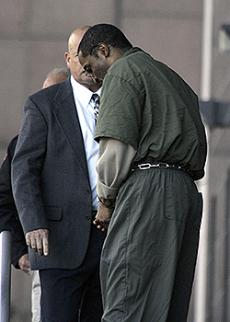 HOUSTON (AP) – A truck driver was convicted Monday in the deaths of 19 illegal immigrants crammed into a sweltering tractor-trailer in the deadliest human smuggling attempt in U.S. history.
The jury will return on Wednesday to begin hearing evidence on whether Tyron Williams, 35, should get the death penalty.
It was the second time Williams was found guilty in the case; an appeals court said the earlier verdict was flawed and ordered a new trial.
The federal jury deliberated a little more than four days before convicting Williams on all 58 counts of conspiracy, harboring and transporting for agreeing to drive the illegal immigrants from South Texas to Houston in 2003.
The more than 70 immigrants packed into the airtight trailer clawed desperately at the insulation, broke out the taillights and screamed for help as the heat climbed inside. Nineteen suffocated or died of heat or dehydration.
Williams abandoned the trailer at a truck stop near Victoria, about 100 miles from Houston.
Defense attorney Craig Washington said his client was not responsible for the deaths because he didn't know the immigrants were dying until it was too late. Washington blamed another smuggling ring member for causing the deaths by overstuffing the trailer.
Prosecutors said Williams was responsible for the deaths because he didn't free the immigrants or turn on the air conditioning.
Williams showed no reaction when the verdict was read. He accepted a long hug from his lawyer before being led away by U.S. marshals. "I am deeply disappointed," said Williams, a former congressman.
Williams, a Jamaican citizen who lived in Schenectady, N.Y., is the only one of 14 people charged in the case to face the death penalty.
Last year, a jury convicted Williams, but he avoided a death sentence because the jury couldn't agree on his role in the smuggling attempt. An appeals court said the verdict did not count because the jury failed to specify his role in the crime.