Great Scot! Student spents the fall abroad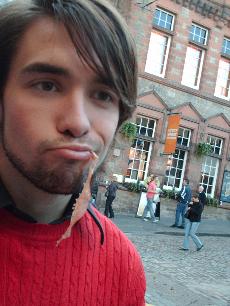 Photo Provided
When senior Justin Terry was on his way to Scotland, he was worried about committing some faux pas, but when he got there, fate had already stepped in – his luggage was lost, and hey presto! Three days later, he was the stereotypical "smelly Euro."
Terry, a Bachelor of Fine Arts in Performance student with an emphasis in acting, has spent this semester at Glascow Caledonian University in Glascow, Scotland.
Terry arrived in Glascow Sept. 13, and although he's enjoying the European experience, his first impression wasn't so flattering. "The airline lost my luggage, so I had to go two days with nothing except the one shirt I had in my carryon," Terry said. "Then the housing office said I had no place to stay. They said that I had been sent a form and that I had not responded." Four days later the form arrived at his house in Corbin, Ky.
There are some aspects of Scotland that are keeping Terry from being too homesick. "The area is nice, the campus is mostly concrete – much like NKU, and it rains a lot."
While at Glascow Caledonian, Terry is getting some of his general education classes out of the way. He's taking Sociology, Human Biology and Essentials of Human Nutrition, quite a change from the theater classes he's used to. "The university is much more laid back than NKU. You don't even have to be registered to go to class until the fourth week, so you have time to figure out which classes to take," he said.
Other than taking classes and exploring the streets of Europe, Terry has made friends with people from Germany, Austria, Lichtenstein, Spain, Ireland, France and Canada.
Some of them even got to watch a Bengals' game together. "Someone had told this girl that they were going to watch the Bengals play at this bar called The Walkabout," he said. "She got all dressed up expecting to see a band and asked me if I wanted to go hear them play. I was like 'The Cincinnati Bengals?' and when she said, 'yeah' I just lost it."
Getting a taste of home is a luxury that's hard to come by for Terry, who has not been home since September and won't be returning until Dec. 27. However, just because he is in a foreign country doesn't mean he doesn't get to keep his American slang. "I've said a few things that have almost gotten me in trouble," Terry said. "One time I said, 'Yeah, I already know a lot about this subject because I had a Nazi of a teacher in high school.' That didn't go over well with my German friends."
Some students might be a little hesitant to study abroad because of the stigmas foreigners are thought to hold about Americans, but Terry hasn't experienced much hostility. "I've not really had to deal with anything except a drunken comment from someone praising Bin Laden. However, there are some underlying attitudes that Americans are somewhat egotistical and egocentric."
"The big thing is that everyone thinks that all Americans are hyper-patriotic and that we all fly 15 flags and have five guns," Terry said. "I just tell them that most Americans have a patriotism deeply seeded from birth, but that we don't necessarily wear it on our sleeves