Film delivers more than just gold, frankincense and myrrh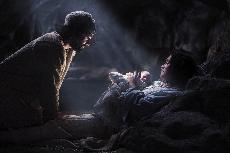 Jamie Trueblood (Associated Press)
'Tis the season and the decorations are up earlier than ever. Santa statues on the roof, electric candles in the windows, and, of course, your grandmother's "antique" nativity set.
Despite what winter holiday you choose to celebrate, most people are familiar with the nativity – a woman gazing at her newborn son lying in a manager while her husband, shepherds and wise men surround her and stare at the child. All is peaceful in the midnight clear.
The new film "The Nativity Story," opened on Dec. 1 as the first movie to premier in the Vatican and the scene portrayed is anything but a silent night. The movie, directed by Catherine Hardwicke (Vanilla Sky), provides a much more in-depth look at the journey that led Mary and Joseph to this pinnacle point in history. The story shatters the stereotypical calm, peaceful scenery we envision, by focusing on Mary and Joseph's 100-mile journey in treacherous terrain during the ninth month of Mary's pregnancy.
The story begins with Mary being visited by an angel who tells her she is expecting the Christ child. Mary is faced with ridicule as the news becomes known that she will have a child before marriage. Her future husband, Joseph, is devastated until he is visited by an angel of his own.
The couple's next hurdle takes the form of King Herod declaring a census, forcing Joseph to return to his homeland of Bethlehem. Once there, as we all know, the only place the divine couple can go is the Inn's barn, where Jesus is born, no crib for a bed.
"The Nativity Story" is a powerful drama that engages the heart of the viewer. It adds a more personal side to the traditional story as we see the difficulties Mary and Joseph had to face. By focusing on their emotions, people of all religions will be able to relate to the pain and excitement the characters feel.
"The Nativity Story" stars 16-year-old Keisha Castle-Hughes (Star Wars Episode III, Whale Rider) as Mary, Oscar Isaac (Guerilla) as Joseph, and Shohreh Aghdashloo (X-Men, The Lake House, House of Sand and Fog) as Elizabeth, mother of John the Baptist.
Although some movie-goers will prefer to keep their Christmas films light-hearted, this new rendition of the nativity story will give viewers a new understanding of Christmas.
You will never look at your grandmother's dusty, old nativity set the same again.