The Fix
Regan Coomer
November 28, 2006
Filed under News
Hang on for a minute...we're trying to find some more stories you might like.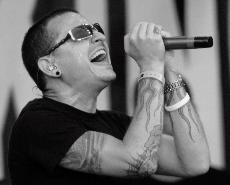 Linkin Park frontman Chester Bennington was electronically violated when a fan managed to hack into his cell phone and e-mail records, People magazine reports. Devon Townsend, 27, of Alberquerque, N.M., faces federal charges on suspicion of using a lab computer to access a cell company's Web site, according to an Albuquerque newspaper. Court documents allege Townsend obtained phone numbers Bennington had called and pics he had taken with his phone. Townsend may also have hacked into the e-mail account of Bennington's wife, Talinda, a former Playboy model. Talinda reported the breach of security on the couple's Verizon account last month, and police soon traced the activity to Townsend, who then admitted to the online hacking, according to a federal affidavit. The search of Townsend's house produced Linkin Park memorabilia. Well, obviously. If she took the time to hack into Bennington's account, Linkin Park stuff in her possession is no shocker.
Josh Groban just wants somebody to love. His new album, "Awake," debuted at No. 2 on the Billboard 200 this week, but his romantic life isn't exactly No. 1, or No. 2, for that matter, People magazine reports. "I'm a single guy at the moment," Groban, 25, told People Nov. 21 at the American Music Awards. "And I'm dating. But it's hard to date when you're like, 'Hi. I'll see you in three months when I'm back from Europe.'" Groban and actress January Jones called it quits last June after three years. "It's my first time being single and also kind of, like, famous," he said. "So my b.s. meter is high. I have to make sure I meet the right people." Josh, if you want a stable, meaningful relationship, all you have to do is pick one of the thousands of tame, middle-aged women who make up the majority of your fan base.
Quote of the Week:
"Paris (Hilton) and I have tongue-kissed before. It's not unusual for me to say, 'Hello Paris' and kiss her, but it's not like we are a couple or anything."
–Travis Barker on the rumors linking him and Paris. (Star Magazine)