NKU soccer team falls short of championship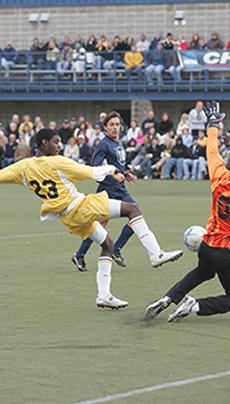 Tim Downer
The Cinderella story of capturing the first-ever NCAA Division II National Championship in Northern Kentucky University's history fell short for the men's soccer team Nov. 12.
NKU, ranked No. 14 in the country, fell 2-1 in a stunning last-minute heartbreaker to No. 16 Lincoln Memorial University.
Being picked sixth in the preseason Great Lakes Valley Conference poll, the Norse shocked the country with its surprising run at a possible Final Four appearance. With that, the national quarterfinals made its way to Wilder, Ky., as the high-powered Railsplitters went toe-to-toe with the red-hot Norse.
Leading up to this high-powered shoot-out, the Norse came into the contest with an impressive 14-game winning streak.
Throughout the first half, and pretty much the entire game, the Norse dominated, but in the 11th minute of play, LMU's Leanardo Pereira broke free and buried his 20th goal of the season in the back of the net with a 6-yard placed shot past the diving junior NKU goalie Andy Ortman.
With the goal, the Railsplitters went to the half leading 1-0. With NKU's back against the wall, NKU freshman Braden Bishop brought the Norse fans to their feet as he evened the score 1-1 off an assist by junior Chris Thompson and sophomore Tony Ray.
The goal by Bishop seemed to sway the momentum for the Norse.
NKU had several chances of breaking the tie, but the opportunities were not enough due to outstanding goalkeeping by LMU's Brent Cole who made four of his five better saves in the second half.
With the crowd anticipating overtime, LMU's Leanardo de Barros had other plans by stunning the Norse with a chip shot past Ortman to take the lead 2-1 with less than two minutes remaining in the match. The Norse could only stand in shock as it watched the 2006 season end at Towne ' Country Sports Complex at the hands of LMU.
With the loss, NKU snapped its winning streak and ended the Norse season with a record of 16-3-3.
LMU improved its record to 15-1-3 and will now head to Pensacola, Fla., where it will meet Fort Lewis University in the 2006 NCAA Men's Division II Final Four. The action begins Nov. 16.
For NKU, 2006 was the soccer teams' first appearance to the NCAA Division II Tournament, and it is also a season to remember as they captured the 2006 Great Lakes Region Championship.