Hot Seat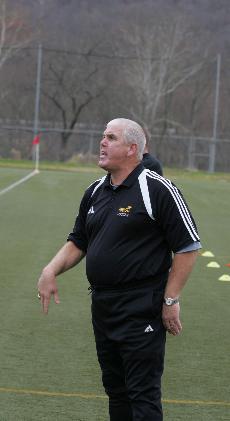 This week's guest is Northern Kentucky University Men's Soccer Head Coach John Basalyga. He was named 2006 Great Lakes Valley Conference Coach of the Year. His team's record for this season was 16-3-3, which tied the record for the most wins in a season by a NKU men's soccer team.
Tim: Coach Basalyga, what accounted for your successful season this year? Coach: Experience and defense.
Tim: Do you have an off-season training regimen? Coach: Yes, we train three times a week by lifting and running during the months of January, February and March. Then in April we go down and practice three times a week at Town and Country (NKU's home field). We also line up usually five practice games against Division l schools or the semi- pro-team from Cincinnati.
Tim: Do these practice games help? Coach: Yes, it enables our guys to see what it is like to play against the next level of skill.
Tim: Has your strict training influenced your success? Coach: Our team is disciplined on the field and I believe in the way soldiers are trained: One for all and all for one. The aggressive nature of my training is because of my East Coast upbringing. I call it the "New York City style."
Tim: To me it seemed as though you were tight before the game. Were you nervous? Coach: No, I have been through this before as a player, but our kids were a little tight. They did a great job though.
Tim: Did you prepare your team for this game against Lincoln Memorial University any differently than other games? Coach: No, we have a routine. During the five days of training, we didn't do anything different and the extra bit of rest we had helped us.
Tim: The game was moved from the home field of Lincoln Memorial to the NKU home field at Town ' Country Sports Complex. How did this play to the team's advantage? Coach: Anytime you play at home it is an advantage. Our field is turf, and both teams like to play on it.
Tim: How do we attract a bigger crowd during our home games? Coach: Success and then marketing. The marketing thing is not my call.
Tim: We had the momentum after we scored our goal and then Braden Bishop and Tony Ray were both substituted. Were they OK? Coach: Yes, Tony Ray had played a lot of minutes already and needed a rest, and besides, Braden is used to coming in during the game, so it was important to give them both a rest so that they would be ready to go for the final minutes.
Tim: We only lost one senior in Davis Bottos this year. How will we look for next year? Coach: My goal is to go one game farther than last year. We have the strongest conference in Division ll, and although I don't put much stock in the conference tournament, the real goal is to get into the NCAA tournament and go as far as we can.
Tim: What was the last book you read? Coach: Actually I am reading two books at the same time now: "Mental Focus on Soccer" by Bill Beswick and "The Carolina Way" by Dean Smith.