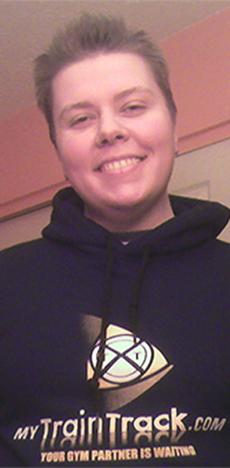 Contributed
No one wants to live under the thumb of an overpaid, officious, manipulative and self-righteous being – also known as a boss. For Abigail Miller, being her own supervisor is becoming a reality.
"If you asked anyone in my family, they would tell you that I've always wanted to be my own boss," Miller said. "I have an entrepreneur spirit." A spirit that this MBA graduate student hopes is blossoming into a career.
Miller started a Web-based company called myTrainTrack where people can track their physical training and share their dieting and fitness stories with others on the site, www.myTrainTrack.com.
Miller's inspiration to start myTrainTrack.com came from her personal experiences. "I went to the gym three times a week, but after the weekend I couldn't remember what I'd done the week before, and I wasn't going to carry a notepad around the gym. I thought there should really be a place where you can track your training," she said.
After spending countless hours of surfing the net looking for a Web site that suited her needs, Miller was shocked by the lack of information online. "There were sites that had some of the things I was looking for, but none of them were all together in the same place."
She had an idea and a plan – a point where many dreams fade, but for Miller, getting from the conceptual stage to having her own company fell into place easier than she could have imagined. The Web contractor, graphic designer and even the attorney who drew set up the papers for the company, are all friends of her family. "It was a sign to have everyone I needed in my reach," she said.
If myTrainTrack.com does not grow the way Miller hopes, her backup plan is to be a professional student. "I love school," she said. "I would be a student forever if I could afford it."
Miller started at Northern Kentucky University in 1999 and has since earned a bachelor's degree in finance and a master's degree in information systems. "I wanted to go back to school and I figured that, with starting my own company, getting an MBA wouldn't hurt."
When this 25-year-old entrepreneur-hopeful isn't in class, maintaining the site, or updating her profile on myTrainTrack.com, she's with her four cats or with the homeless animals of The League for Animal Welfare, a no-kill animal shelter in Batavia, Ohio. "I'm the single cat lady everyone talks about," she said. "I would love to spend all my time at shelters but it tears me up. I always come out of there crying. I'm a sucker for animals."
She's a slightly self-proclaimed nerd but other than cats and computers, Miller enjoys euchre and television. "I'm a total TV freak. I think DVR is the best invention ever." Since DVR was already taken, myTrainTrack.com was her next choice.
With all the people she needed close at hand and enough time to get things moving, Miller decided if she was ever going start her own company, this would be the time. "I wanted to get this going before I have a family to support and no time on my hands," she said. "I'm interested in hearing real people's stories."
Miller said, "The site isn't just about loosing weight, it's about finding a community with whom you can relate. I'm not offering advice from Doctors or a magic pill," she said. "I'm offering real advice from real people." myTrainTrack.com is scheduled to launch on Nov. 21. It will launch as a free site until Jan. 1, 2007 at which time it will reopen with new features and a small fee.