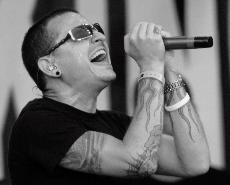 Attention! This could be you, if your BFF becomes famous. "Scrubs" star Donald Faison, 32, and Cacee Cobb, 28, are dating – and it's serious, Star magazine reports. Faison and Cobb, Jessica Simpson's best friend and former assistant, have been dating only a month, but "this is one relationship that got hot and serious very fast," said a friend of Faison's. "Donald has been telling his friend that they're very much in love and he really wants to settle down with her for the long term," the friend said. If this twosome gets hitched, Simpson's toast will run along the lines of: 'Here's to Cacee and Donald! If I hadn't gotten famous, you guys wouldn't have met!' Ouch.
Former Public Enemy member Flavor Flav is breaking hearts – and TV ratings records, The New York Post reports. The season finale of the VH1 reality series Flavor of Love 2 pulled in 7.5 million viewers Oct. 15, making it the most-watched cable show of the year. The show followed Flav as he chose his true love among 20 very eager contestants. The winner, London "Deelishis" Charles, beat season one veteran Tiffany "New York" Patterson. Let me just say that, once again, my girl New York was robbed of her well-deserved title, and I look forward to her appearance in Flav's next reality installment.
Who knew Chippendales were dangerous? Actress Hilary Swank suffered a striptease-related injury recently on the New York set of her new romance movie, "P.S., I Love You," People magazine reports. The two-time Oscar winner was shooting a scene with co-star Gerald Butler, when his attempts at erotic dance resulted in his suspenders coming loose and whacking her on the forehead. Filming was delayed while Swank's cut was stitched up. Despite her strip-stitches, Swank is on the mend and "in good spirits."
Quote of the Week:
"I embarrassingly went up to Meryl Streep at the Golden Globes. I said, 'I love you so much, I want to tongue kiss you.' And she said, 'OK.'"
-Actress Kate Winslet,/b> on her 'I'm your biggest fan' experience.