NKU defeats Indy 3-0 in GLVC first round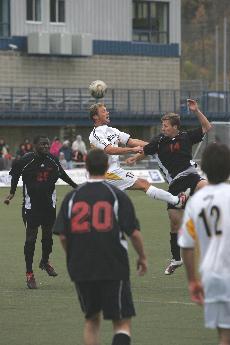 The second-seeded Northern Kentucky University Men's Soccer Team struck first and put the game away early after amassing a 3-0 lead just 16 minutes into the second half of its game against seventh-seeded University of Indianapolis in the first round of the GLVC Tournament.
It was a return to the scene of a rare hiccup in the Norse's march to a record of 14-2-2. Sept. 1, Indianapolis came to the Town ' Country Sports Complex, in Wilder, Ky., looking to hand NKU its first loss of the season, and did just that in a game the Norse lost 1-0 during overtime.
It was just one of just two games all season that the team lost, and one of only two games where the Norse failed to score a goal. That loss highlighted the team's need to finish on scoring opportunities.
"We've gotten a lot better since then," said Assistant Coach Kevin McCloskey, who has helped guided the Norse to a No. 15 ranking in Division II. "We've had a lot of freshmen step up, and all the guys just have a lot more confidence."
One player who has really come through lately is junior Chris Thompson.
"(Thompson) has really stepped it up in the second half of the season," McCloskey said. "He really started to turn things around after he scored the game-winning goal against Lewis (Oct. 1)."
Originally not a regular starter, Thompson has emerged as a regular contributor and has continued that trend by lending two assists and banging home the team's third goal off a cross to the top of the box in the win Oct. 22.
The Norse out-shot its opponent 17-7 and managed to get 11 of 17 shots on goal, while Indianapolis had 0.
Junior goalkeeper Andy Ortman was the beneficiary of the big defensive effort by NKU, as it earned him his 10th shutout of the season.
"It was a typical performance from everyone, stepping up and doing the job we expected," he said. "Our biggest thing all season has been finishing our chances. I think we showed on Sunday that we can do that and score goals."
With the win, NKU advances to GLVC semi-finals in Edwardsville, Ill., Oct. 27, where it will face third-seeded Wisconsin-Parkside, who rallied from a 2-0 deficit Sunday to defeat the University of Missouri-Rolla 3-2. The Norse will be looking for its 15th win of the season, one shy of the school record of 16 set in 1995.