Fashion Hot for Halloween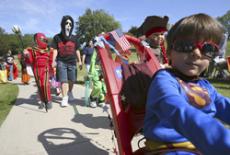 NEW YORK – Pirates will be storming your neighborhood soon, whether you live near the high seas or not.
Thanks in no small part to this summer's box-office success of "Pirates of the Caribbean: Dead Man's Chest," pirate costumes are the hottest look for Halloween, according to retailers. Expect to see both girls and boys with eye patches, and women and men with bandanas around their heads.
"Pirates is one category that really has been genderless and ageless," reports Deborah Radman, public relations manager for national chain Party City. "It has a lot to do with the popularity of the movie. Kids think it's cool, and adults can dress up fairly easily."
In a pinch, a procrastinator could throw on a white shirt, grab a bandanna, eye patch and plastic sword _ all easy to find this time of year _ and be ready to go, she suggests.
Pirate costumes also lend themselves to activities such as scavenger hunts, which fit in with the trend of more Halloween parties and community events instead of or in addition to door-to-door trick-or-treating.
"Halloween used to be something kids would do on their own, but parents are pushing for a more controlled environment. They're looking for more parties or events, and then they're forced to get in on the action, so parents are dressing up, inviting their friends," adds Alycea Ungaro, Party City's party pro.
Halloween in American continues to get bigger and bigger.
Brand Keys, a consumer loyalty research consultancy, predicts that Halloween sales, including costumes, candy and decorations, will approach $5 billion this year, nearly 50 percent higher than last year. The company attributes the surge in spending to an increase in the number of people who plan to celebrate the holiday, nearly 70 percent across all demographic groups.
Plus, marketers have made a conscious effort to promote the holiday beginning with the back-to-school season, says Robert Passikoff, Brand Keys president.
"Parents are always doing Halloween with their kids but they're doing it more so, and adults also are doing it on their own," he says.
This puts Halloween as the sixth-largest spending holiday, following Christmas/Hanukkah/Kwanza, Valentine's Day, Easter, Mother's Day and Father's Day.
Items such a pirate costumes are actually good year-round sellers, says Amy Hauk, senior vice president and general merchandise manager of Disney Store, as children seek inspiration and entertainment in their dress-up bins.
Jack Sparrow, the hero of "Pirates of the Caribbean," is appealing to boys and girls, but because of customer demand, Disney is introducing a version of heroine Elizabeth Swann for the holiday season. "This is a girl taken outside of the traditional role and into pirate action and adventure," Hauk says.
Not to say that girls still aren't enchanted with princesses. To Hauk's surprise, the star at Disney Store this season is Jasmine from "Aladdin."
"Purple is a big fashion color, so maybe even as young as 2 they're subliminally being influenced by John Galliano," Hauk adds with a laugh.
And other non-blond princess, including Ariel and Belle, are faring better than traditional favorites Cinderella and Sleeping Beauty.
Infant costumes are running more to expectations, with Mickey and Minnie, Winnie the Pooh and Nemo leading the pack. The busiest selling period for costumes at Disney stores, the end of September, has already past.
Other standouts:
Mommy's Little Monster
Children embracing the scarier side of Halloween are getting younger each year. Vampires, witches and other dark looks are being worn by tweens and teens, and even Ungaro's own 7-year-old son wants to be a vampire. "She specifically asked me to put blood on her lips," she says.
Brothers Ryan and Matthew Kramer, 8 and 6, respectively, will be dressed as baseball players during their school-day Halloween party but will be "scary guys" when they go trick-or-treating that night. "We can't wear masks to school," laments Ryan, showing off a creepy, glowing monster face in front of Party City in Mount Kisco, N.Y.
_Older teenage girls like a sassier look, such as "Major Flirt," a military-inspired outfit, and "Evil Cheerleader," with dark pompoms and the outfit slightly askew.
Katie Rhodes, 17, Lisa Stevenson, 17, and Katie Stevenson, 15, are going with a theme. Katie Rhodes plans on being the angel between the Stevenson sisters' devils at the John Jay High School costume parade in Cross River, N.Y. "We've been planning this for a while," says Katie Rhodes. "I'm blond, they're brunettes. I drive a white car, Lisa has a dark one. It seemed to make sense."
Boys will be boys
Men are looking for humor, such as a "chick magnet," costume, a giant magnet around the neck and little yellow chicks attached, and the "lost dog," a fat suit with a squashed puppy on the rear.