Nationally-ranked men's soccer team continues winning ways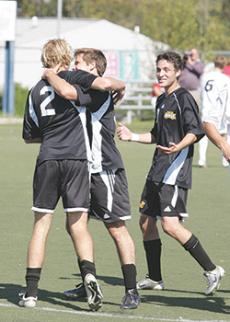 Northern Kentucky University Men's Soccer Team has continued its strong season. Oct. 6, No. 16 NKU faced Rockhurst University at the Town ' Country Sports Complex in Wilder, Ky., ending in 0-0 competitive match-up.
The Norse had its chances to get the victory by shooting 13 shots on the goal.
The tie between Rockhurst and NKU moves the Norse's record to 9-2-2 and 6-2-2 in the Great Lakes Valley Conference.
Oct. 8 the team defeated Drury University at the Town ' Country Sports Complex, winning with the score of 3-0. The game started out as a tight match-up as only nine total shots were made by the two teams.
NKU freshman Braden Bishop, freshman Seth Eckerlin and GLVC Player of the Week, junior Chris Thompson, each scored a goal, leading the Norse to victory. The win put NKU to a record of 10-2-2 overall and 7-2-2 in the GLVC play.
Drury dropped to a record of 8-4-4 overall and 5-4-2 in the GLVC.
Eckerlin made the score 2-0 with a goal in the second half. Thompson scored his fifth goal of the season for NKU, at the 86th minute of the game.
The victory for the Norse gives it a shot at a No. 1 seed in the GLVC Tournament and a first-round home game in the tournament. With its record and standings, (third place in the GLVC League) it could also see its first ever berth in the NCAA Division II Tournament.
NKU can clinch a first-round home game by winning its final two games of the season. The tournament starts Oct. 22 and the top four teams in the league will receive first round home games.
The Norse travels next weekend to GLVC rivals Southern Indiana University and Kentucky Wesleyan College. The Norse returns home Oct. 18 facing the university of Findlay at 4 p.m.