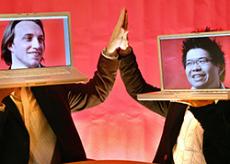 Google's lightning-quick acquisition of online video pioneer YouTube once again demonstrated the Internet search leader's penchant for pouncing on golden opportunities that leave its rivals scrambling to catch up.
Perhaps no Google competitor has fallen behind in recent months as much as Yahoo Inc. _ an Internet icon battling perceptions that it has lost its competitive edge, even as it continues to attract the largest audience on the Web.
Google's $1.65 billion deal to buy YouTube, announced Monday, is just the latest flexion of the Mountain View-based company's muscle.
During the summer, Google formed an advertising alliance with News Corp.'s MySpace.com, a social-networking site that is challenging Yahoo as the Internet's most viewed site. Just as important, Google has continued to widen its lead in the lucrative search market _ the main reason investors think the company is worth $130 billion after just eight years in business.
Meanwhile, Yahoo delayed a highly anticipated improvement to its advertising network and missed analysts' third-quarter revenue targets. Those disappointments have contributed to a 38 percent decline in Yahoo's stock price so far this year, wiping out $22 billion in shareholder wealth.
Yahoo shares fell 56 cents Tuesday to close at $24.47 on the Nasdaq Stock Market, where Google Inc. shares also declined $2.35 to finish at $426.65. In contrast to Yahoo, though, Google's stock price has edged up by 3 percent so far this year.
"It has been an amazing contrast," said Standard & Poor's analyst Scott Kessler. "Google seems to be out-executing and out-innovating Yahoo."
Contacted Tuesday, Yahoo declined to comment about Google's YouTube acquisition or its strategic response.
Yahoo Chairman Terry Semel has repeatedly described the Sunnyvale-based company as being well positioned to capitalize on the entertainment and advertising industries' continuing migration to the Internet. To be sure, Yahoo is making plenty of money _ a $324 million profit on revenue of $3.1 billion through the first half of this year.
But Internet observers are convinced that Yahoo will have to do something dramatic to get Wall Street and Web surfers excited about the company again.
"I think they will be in the penalty box" until next year, said Ellen Siminoff, a former Yahoo executive who now runs Efficient Frontier, a search marketing firm in Mountain View. "This (YouTube) deal will probably encourage Yahoo to be more aggressive than it has been in the past."
The conventional thinking is that Yahoo will step up its efforts to buy Facebook.com, the second most popular social-networking site behind MySpace.
Yahoo reportedly has been talking to Palo Alto-based Facebook for at least three months and has offered as much as $1 billion for the site. Those protracted negotiations have made Yahoo look somewhat indecisive, particularly since Google was able to close its deal with YouTube in one week.
"Yahoo really needs to get this deal done now," said Chris Winfield, who runs the search marketing firm 10e20. "They have to jump in there and make a splash."
If Yahoo is able to snap up Facebook, it will need to do a better job taking advantage of that service than it has with some of its other recent acquisitions, said Dmitry Shapiro, chief executive of Veoh Networks, another online video service.
Shapiro thinks Yahoo could have used Flickr, a photo-sharing pioneer bought last year, to build a thriving online video community before YouTube's popularity rocketed earlier this year. "That was a no-brainer and a giant missed opportunity on Yahoo's part," Shapiro said.
Of course, Google's YouTube acquisition could backfire, too, particularly if the sale results in changes that alienate a rapidly growing audience already watching more than 100 million video clips per day.
"Whether YouTube is able to stay cool really depends on what happens to YouTube post-acquisition," said Greg Kostello, CEO of Vmix, a video sharing site. "Will (Google) muck it up with their corporateness?"
Leery of a backlash, Google will give YouTube co-founders Chad Hurley and Steve Chen tremendous autonomy, assuring them that they can keep the brand, their San Bruno offices and entire 67-employee payroll.
Perhaps the biggest risk facing Google is getting sued for the frequent copyright violations that crop up on YouTube's site. Most analysts, though, seem to believe Google has the technological know-how to detect copyright violations before they appear on the site.
As YouTube screens out more copyright-protected content, it stands to lose some of the video that has made it so appealing, critics say.
YouTube's users also will have to become more accustomed to seeing ads on the site. Hurley and Chen already were moving in that direction as they tried to make money on their own, but the marketing push seems likely to accelerate now that the Internet's advertising leader has paid such a lofty price for the service.
The YouTube acquisition should increase Google's opportunities to display ads next to videos by 10-fold, according to an analysis by comScore Media Metrix. The estimate is based on how many more video ads are watched at YouTube compared to Google's own video service, which will continue to operate after the acquisition is completed in the next few months.
Hurley and Chen certainly sounded optimistic about YouTube's outlook in a video posted Monday after the Google deal was announced. "The king of search and the king of video have gotten together," Hurley said. "We are going to have it our way."