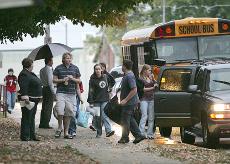 JOPLIN, Mo. (AP) – The 13-year-old boy who fired a single shot from an assault rifle inside a middle school was charged as a juvenile Tuesday in the bloodless shooting.
The boy, who entered Joplin Memorial Middle School wearing a mask, was charged with first-degree assault, armed criminal action and making terrorist threats. Officials of the Jasper County juvenile office said they were talking with a prosecutor about possibly charging the boy as an adult.
The student fired one shot into the ceiling of a school entryway Monday after confronting administrators and students, police said. Nobody was injured and he left after his gun jammed.
Another hearing is set for Wednesday, the juvenile office said. If convicted as a juvenile, the boy's sentence could range from in-home detention to incarceration lasting no longer than his 18th birthday.
Nearly all students returned to classes at the school Tuesday, officials said. Police officers and patrol cars were stationed near the school but largely out of sight to avoid frightening the sixth- through eighth-grade students, police Sgt. Curt Farmer said.
The boy's name was not released because of his age. The incident was the latest in a recent wave of school violence, including three deadly shootings in one week.
The student's backpack contained military manuals, instructions on assembling an improvised explosive device and detailed drawings of the school, which has 750 students. The rifle belonged to his parents, who told police they kept it in a gun safe.
Lt. Geoff Jones said the boy's motives were unclear. School officials said the student had no major disciplinary problems.
Superintendent Jim Simpson said police told him the boy had a fascination with the Columbine High School shooting in which 15 people were killed in 1999 near Littleton, Colo. Police declined to comment.
The student was wearing a trench coat _ like the student gunmen at Columbine _ and had a mask or hood fashioned out of a white T-shirt with two holes cut out for his eyes.
Joplin's schools do not have metal detectors. One full-time safety officer and several drug enforcement officers move between the schools, but none was at the middle school when the shooting happened.
Joplin, which has about 40,900 residents, is in southwest Missouri. It is about 10 miles from the small town of Riverton, Kan., where five high school students were arrested in April and accused of plotting a school rampage.