Student Spotlight: Alyssa Foley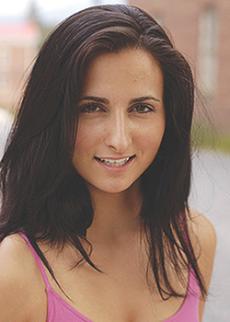 A young woman sits in a swivel chair in the second floor hallway of the Fine Arts Building. She pulls her feet up and smiles as countless acquaintances say hello -many of whom she doesn't recognize. Such is the life of an actress at Northern Kentucky University
Senior Alyssa Foley plays Ms. Turnstiles in NKU's musical "On the Town." Unfortunately, her hectic theater schedule doesn't leave much time to get to know her fellow actor, classmates and fans. "As soon as rehearsals for one show are over, I'm rehearsing for the next one," Foley said.
Foley's love for theater began to bloom in junior high school when she played a munchkin in "The Wizard of Oz." "That's when I really got into theater, but I fell in love with it in high school," Foley said. However, Foley said her role of Reno in "Anything Goes" was what helped her to realize theater was her calling. "I was a senior [in high school] when I played Reno. It was the first year I really opened up and the audience really responded to me."
Foley's role of Ms. Turnstiles was one she didn't quite see herself in at first. "I read for two characters and I thought that I was more of a candidate for the other role. Mark Hardy (director of "On the Town") is always saying that I act childish and I think I showed him a side he hadn't seen before-a more womanly side."
Outside her shows at NKU, Foley has worked at Summerstock, where students perform Broadway caliber shows. She is also a teaching assistant at Uptown Arts, a place where kids can take artistic classes, perform and display their own exhibits. "I love performing, I love dancing and I love that people can really be moved by something you are doing on the stage," she said. "I love the feeling of being vulnerable. When you're on the stage, everyone is watching you and you could mess up at any moment. It's always different."
No matter what part she plays, Foley said she always tries to be and feel her character. "Sometimes when I'm on the stage, I feel like I'm naked in front of the audience and they're seeing what I'm feeling. It's kind of an adrenaline thing," she said.
Before Foley graduates in the spring, she will be performing in one of the theatre department's "Thank Goodness It's Theatre" (TGIT) Fridays in February. "My roommate and I are doing all original choreography for the performance. We are both in dance troupe but we can only choreograph one dance each and we want to showcase our work-we want to experience all kinds of dance and just really try new things."