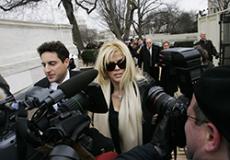 NEW YORK (AP) – In most boldface-name paternity disputes, men deny they're the baby-daddy. But in a he said/he said twist to the Anna Nicole Smith tabloid saga, two guys are claiming to be the father of her baby girl.
Smith's lawyer and boyfriend, Howard K. Stern, says he is the father of Dannie Lynn Hope, born Sept. 7. Smith and Stern have exchanged non-legal vows and say they plan to officially tie the knot.
But Smith's ex-boyfriend, photographer Larry Birkhead, says HE is the dad and has filed a lawsuit demanding that she and the baby return to California for DNA testing. He also wants the baby tested for drugs. Smith was served with court papers Monday in the Bahamas, Birkhead's attorney, Debra Opri, told The Associated Press.
Two wannabe dads, one mother. Is this normal, or does Smith have some 'splaining to do?
"Generally, the guy doesn't want to step forward because he's going to end up paying child support," said California-based divorce attorney Connolly Oyler. "And many paternity suits filed by women are out of disappointment that, `He told me he loved me and we went to bed, and I'm pregnant. He ran.'
"Those are the typical situations … It's usually a one-on-one situation. Very seldom (do) you have a multiple."
The 38-year-old former Playboy playmate and celebrity widow went to the Bahamas to give birth to Dannie. Three days after Dannie was born, her 20-year-old son, Daniel Smith, died of an accidental lethal combination of methadone and two antidepressants, according to a private autopsy.
Eighteen days after that, Smith and Stern exchanged vows on a catamaran near Nassau but there was no formal marriage. People magazine bought photos of the event and will feature them in its next issue, according to Smith's attorney, Michael Scott.
Oyler said if DNA testing confirms Birkhead to be the "bio-dad," or biological father, then he can get visitation rights and perhaps even joint custody. He also could get "a huge amount for child support," based on a formula that compares incomes.
That's a nice incentive, considering Smith's wealth _ but it's not the right one, Opri said. Birkhead "truly wants to be involved in that child's life. This is his first child and he does not want to lose that child. And that's why we're doing all this," she said.
Smith could not be reached for comment Tuesday. Stern's cell phone mailbox was full.
Cyril Wecht, the forensic pathologist who did the private autopsy on Daniel Smith, said Tuesday that his toxicology tests also detected trace amounts of a third antidepressant, Amitryptiline. But he said that did not affect his conclusion that Daniel died accidentally from the interaction of methadone, Zoloft and Lexapro in his system. Smith had a prescription for Lexapro; his mother and her attorneys were trying to determine how he obtained the other drugs.
Smith has been married twice. In 1985 she wed Bill Smith, her co-worker at a Texas restaurant, and gave birth to Daniel before divorcing two years later. And in 1994, she married Texas oil tycoon J. Howard Marshall II, when she was 26 and he was 89. He died the following year. She has since been embroiled in a legal dispute over his multimillion dollar estate.
Though it's rare for two or more men to claim to be a child's bio-dad, Oyler said he often represents men wanting to establish paternity and a relationship with the child. And, he added, "There's such an interest in society in fathers and children, and mothers and children, that if (paternity is proven), the court will take his request very seriously."
The daddy question all comes down to a simple DNA test. (Results are 99.9 percent accurate, said Stephanie Benske, a Milwaukee-based family law attorney.)
No matter how science settles the dispute, both men "are in for a long haul," Benske said.
And so, it seems, is Dannie.