Musical doesn't disappoint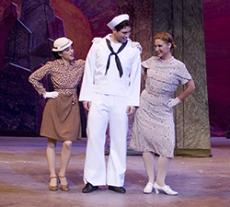 Sophomore
Tina Diaz
, senior
Jeremy Sartin
and sophomore
Heather Roush
.
"On the Town" is a 'helluva' show. It's got jazzy Leonard Bernstein music, swingin' dance numbers, a larger-than-life New York City setting and a 62-year track record of crowd-pleasing entertainment. So when I showed up for the Department of Theatre and Dance's rendition of the musical directed by Mark Hardy, I had expectations higher than the Empire State Building.
The bouncy, light-hearted production didn't disappoint.
The show follows three thrill-seeking World War II sailors on a 24-hour shore leave in New York City. Chip (senior Chad Sapp), Gabey (senior Jeremy Sartin) and Ozzie (sophomore Cary Davenport) are determined to pack all the adventure, romance and excitement of the big city into one short day.
The fun starts when the three get off at the first subway stop and Gabey eyes a poster for the subway pin-up girl of the month, Ms Turnstiles of June, otherwise known as Ivy Smith (senior Alyssa Jane Foley). At his first glimpse of her sweet smile, Gabey's in love. Since he must find her, he enlists the help of his wingmen, good buddies Ozzie and Chip, to help him score a date with the elusive Ms Turnstiles.
While helping their pal find romance, Chip and Ozzie wind up finding a little for themselves. Chip catches a ride with lusty tour guide and taxi driver Hildy Esterhazy (junior Katlyn Mukuda) while Ozzie collides with Claire DeLoone (junior April Leonhard), an anthropologist who's instantly attracted to his animal magnetism and prehistoric good looks.
Mishaps, laughs and adventures ensue as the group combs New York to find a date for a lonely sailor with only a 24-hour break from the stresses of World War II.
All six leads have performed minor roles in Northern Kentucky University productions, but this show marks the first time any of them have been in starring roles. However, the actors in "On the Town" allay the theatre department's fears of lack of talent. Sapp, Sartin and Davenport were a charismatic and fun trio, while Leonhard stood out as a top-notch singer, Mukuda a convincing character actress and Foley an athletic dancer.
While the leads were phenomenal, one of this show's major strengths lies in its outstandingly talented ensemble. The ever-changing crew of factory workers, over-the-top nightclub entertainers, hot dog vendors and old women running after "Vandals!" leant just the right amount of New York personality to the show.
NKU's first production of the year is a toe-tapping, hum-along of a good time. "On the Town" will steal your heart in a New York minute.