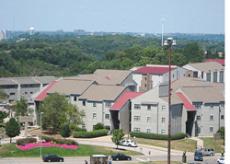 Despite diminished state financial support throughout his 13-year tenure, former Northern Kentucky University President Leon Boothe added more than 600 beds to the university student housing area by relocating funds.
To honor this accomplishment, the Board of Regents voted Sept. 6 to rename student housing the Dr. Leon E. Boothe Residential Village.
Current President James Votruba said, "Leon believed in the importance of the residential village. The state wanted it in phases, but Leon knew it needed to be done."
Along with the expansion of student housing, Boothe was instrumental in the continual growth of the campus, physically and academically, during his service as president from 1983 to 1996. Boothe drew on his previous leadership experiences as dean of George Mason College of the University of Virginia (now known as George Mason) and vice president of Academic Affairs and provost at Illinois State University.
"George Mason was similar to NKU. Most of the students worked (outside jobs) and led busy lives. I became dean when the college was only four years old with 1,700 students enrolled. By the time I left, the university had grown to 12,500 students," Boothe said.
Boothe left George Mason after 10 years and became vice president and provost at Illinois State in 1980. "(Illinois State) was well-established when I started there. There was a student body of 22,000 and it was a more mature university. I missed the challenge of change," he said.
Implementing change and overcoming adversity was the focus of Boothe's presidency at NKU. According to Boothe, he lives by the philosophy of "Don't tell me why we can't do it; Tell me why we can." He said this motto was the catalyst behind expanding the campus and increasing enrollment by more than 50 percent during a time when state support decreased from 60 to 30 percent.
Although he was often in the leadership position throughout his career, Boothe still found the time to teach. Professor of Speech Communication, Dr. Steve Boyd, said, "President Boothe was a people person as NKU president. He endeared himself to the community by his positive attitude and concern for others."
According to Boothe, although he is retired from teaching at NKU, he continues to work in the community as senior advisor for the National Underground Railroad Freedom Center. He worked with Edward Rigaud, retired vice president of Procter ' Gamble, to leave the Freedom Center as a legacy gift to celebrate the 60th anniversary of the National Conference of Community and Justice (NCCJ) in Cincinnati.
Concerning the future of NKU, Boothe said, "Dr. Votruba is helping take the university to the next level. He is doing wonderful things for NKU."
Now that state funding has increased, Votruba plans to add 400 beds to the Dr. Leon E. Boothe Residential Village during the next several years.