Student kicked it in Mexico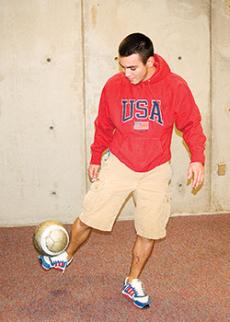 As National Hispanic month begins, students at Northern Kentucky University may not realize there is a former professional Mexican soccer player among them.
Aug. 4, 2002, sophomore Enrique Arana packed his bags and hopped on a plane for Guadalajara, Mexico, to take his place as a member of the Mexican Soccer Team.
"My Dad contacted an old friend and he told me to come on down to play professional soccer," Arana said.
Arana's parents, originally from Guadalajara, Mexico, moved to the United States as teenagers. Arana was born in California and lived in Los Angeles until he was 10.
"L.A. is a city where everybody spoke Spanish. When I came to Kentucky, the only English I knew was from television."
While in Los Angeles, Arana was put into classes for learning English as a second language and had a hard time making friends.
"I got made fun of for pronouncing 'stomach' with the 'ch' on the end