Last Kiss a chick flick for the guys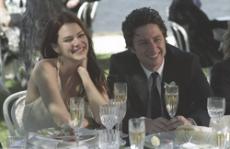 If there was ever a chick flick for guys, "The Last Kiss" is it. The new film starring "Scrubs" star Zach Braff tells the story of four best friends who are all in different stages of their relationships; experiencing very realistic fears of commitment, maturity, and boredom. While it looks like more of a girly romantic film, the previews are deceiving. Actually, the people most likely to relate to this one are of the male persuasion.
Contrary to popular belief, Zach Braff neither wrote nor directed "The Last Kiss," and, apart from the soundtrack, it is far from being "Garden State Part 2." Braff lends only his acting to the film as main male masochist Michael, while Paul Haggis (of "Crash" and "Million Dollar Baby" fame) adapted the screenplay from Italian film "L'Ultimo bacio," and actor Tony Goldwyn directed.
The film may have been more acceptable written by novice Braff, however, as someone of Haggis' caliber should have been able to develop the story and the characters a bit more. Something must have gotten lost in translation in his adaptation, because the overall feeling was a bit lacking. While the message was both relatable and clear – Men are afraid to grow up and will go to almost any extreme to prevent it from happening – the story could have presented this theme a little better. Most of the characters and their conflicts felt underdeveloped, not allowing the viewer to fully connect with anyone. Some emotions are definitely evoked, but it could have been a lot more powerful.
Not to say it wasn't acted well, though. Actresses Jacinda Barrett and Blythe Danner played their characters beautifully, as did the fellow frightened boys Casey Affleck and Michael Weston. Tom Wilkinson was very believable as the omniscient husband and father figure, too. Rachel Bilson did well in her feature film debut; however, the character given to her was very two-dimensional and had almost everything in common with her television counterpart, Summer Roberts of The O.C. Braff was again a quiet, contemplative, afflicted character who attempts to be passive aggressive in order to get what he wants. It worked in "Garden State," but this time he seems a little creepy, and unforgivable.
As for the cinematography, it could have been a bit more innovative, because many of the scenes lent themselves to more creative shots, but they were only taken advantage of in a few situations. However, the shots they did use served their purpose.
Romance and happy endings are not part of "The Last Kiss." Just as in life, the movie gives no real resolution. While some people may hate the film for this, I think it's the best part. It allows the viewer to decide what he or she would do in the situation, and therefore gets more of an emotional message across to the audience.
If it's a lighthearted, romantic film you want, then skip this one. But if you're ready to delve into and analyze the complex late-20s male psyche, "The Last Kiss" will help you do just that. Make sure you have your own insights, though, as the film only takes you so far.