Student choir group to release second album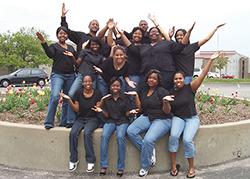 Northern Kentucky University's Anointed Voices Gospel Choir will soon have reasons to be singing "Victory" and "Praise you Lord" around campus. Their second self-titled CD is due to be released in early October.
The new CD will feature local artists such as Soulja-K, Poet 27 and NKU student Joshua A. Harris. According to Carmen Myrick, advisor and executive producer of the choir, the members of the choir were able to come up with the lyrics and melodies for two songs on the album: "Victory" and "Praise you Lord."
"We were able to put more into this album," said senior Greg Moore, choir member. "The first time we recorded a album, we used a beat that was already made. This time we made up our own songs from two scriptures."
The choir's Bible study teacher added a prayer in the beginning of the CD. Local artist Poet 27 added a "Mother's prayer" in the last song of the album. He dedicated the prayer to his mom and everything she has done for him.
Instead of returning to Brown Macke College, where the choir recorded its last CD, it decided to stay on campus this time. The choir recorded its second CD in the Norse Commons conference room.
"They felt like it was the best place to record," Myrick said.
Participation with the choir has grown since last year. The choir is now close to 50 students, as compared to last year's 30 members. The members include Choir Director Jonathon Golden.
This past year it lost a few significant seniors who were the head of the choir. However, some of them came back to help with the album.
One graduated member, Meredith Little, is just as excited for the new second album as the current members. "I used to have a lot of fun coming together and writing songs. It was fun to be on a CD knowing you wrote songs to give to other people."
The NKU Anointed Voices Gospel Choir is having its next show Sept. 17 at 11a.m. It will be during NKU Sunday Fellowship in Norse Commons room 117.
Myrick said she plans to take the choir to other events around campus and send its CDs to local radio stations.
"I am really proud of them," said Myrick. "They have been really faithful throughout this whole process."