One-wheeling wonder
Geist, Kellie
September 13, 2006
Hang on for a minute...we're trying to find some more stories you might like.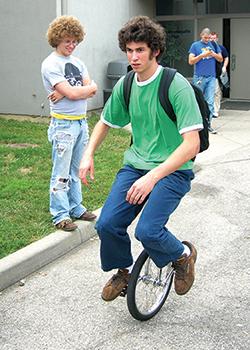 In 1866 a mechanical oddity, the Penny Farthing, was invented. It was a unique bicycle with an extremely large front wheel and very small back wheel. When riders would lean slightly forward, the rear wheel would lift off the ground, a glitch that quickly spun into a 19th century version of popping a wheelie.
This glitch ultimately led to the invention of the unicycle-a permanent wheelie.
Stephen Wall, a freshman forensic chemistry major, is one of few, if not the only, practicing unicyclists at Northern Kentucky University. "I bought my first unicycle on eBay at the beginning of last summer." Wall chuckled and said, "My parents didn't want me to have it because they thought it was dangerous."
Wall might snub his own experiences, but considering that there are extreme unicyclists out there-his parents could've been right. Wall said, "I have to wear pads like they do in soccer because if you miss the pedal it swings around and hits you in the shin."
When he's not laughing in the face of fear, Wall is showing off in front of young impressionable minds. "I don't like to ride around at the park that much," Wall said, "but when I do the kids around are always really excited to see my unicycle. They run to get their parents so they have to see it too."
"I think it's neat to have around," Wall said. "People are always saying that I should ride it to class but I only have classes in three buildings so it would be kind of pointless."
After learning to ride on his not-so-great eBay uni, Wall was ready for an upgrade. He said, "I found out that there were some unicycles in storage under the gym floor of my high school. They were all broken and unused, so I took all three and fixed them up."
Wall kept one for himself and gave the other to his best friend. "I like to teach people to ride. I taught some of my friends and other people who just want to learn