Bengals' defense dominates in opener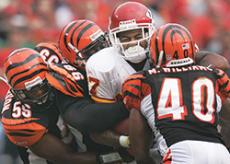 DICK WHIPPLE
CINCINNATI (AP) – For once, Carson Palmer was overshadowed by his defense.
The Cincinnati Bengals had seven sacks, all by linemen, and generally had their way with one of the NFL's most dangerous offenses in their season opener, a sharp break from their recent past.
The defending Northern Division of the American Football Conference champs had two major concerns in the offseason: getting Palmer back from a knee injury, and getting the defense up to playoff standards.
Palmer was fine during the 23-10 win in Kansas City. The defense was better yet.
"Very impressive," receiver Chad Johnson said. "The defense is usually ahead of the offense early in the season. Once we balance it out, it's going to be nasty."
The Chiefs have rarely been pushed around on their home field the way they were Sunday in the opener. Trent Green was knocked unconscious in the third quarter when he slid at the end of a scramble and was hit by Robert Geathers, smacking his head against the ground.
Backup quarterback Damon Huard, who hadn't completed an NFL pass since 2000, fumbled twice and was overwhelmed by the Bengals' pass rush in the fourth quarter.
Although coach Marvin Lewis refused after the game and again Monday to praise his defense, players understood how much the performance meant. The Bengals gave up 37 points on the same field in their final regular-season game last year.
Over the last eight games this past season, the defense gave up an average of 30 points. "We had a whole offseason to hear about it," defensive tackle John Thornton said.
They turned the rematch into a reference point. The seven sacks tied for second most in franchise history; it was the ninth time the Bengals have had that many in a game. The team record is eight, accomplished twice.
A few factors figured prominently in the rematch.
First, the Chiefs showed how much they miss 11-time Pro-Bowl left tackle Willie Roaf, who retired as training camp was about to begin. He has been replaced by Kyle Turley, who missed two seasons recovering from a back injury.
"He's coming off that back surgery and he's still a heck of a player," said end Justin Smith, who had three sacks and recovered a fumble. "There were just some things we saw on film and ways we wanted to attack them. This year, we're planning on rushing the passer straight-up instead of playing games."
Right tackle John Welbourn retired unexpectedly in June, before he was suspended for six games for violating the league's substance abuse policy. Jordan Black took his place and was repeatedly beaten on Sunday.
With their two tackles having problems protecting the quarterback, the Chiefs couldn't do much.
"Yeah, they had long days," Geathers said. "We looked at them a lot coming into the game, and we knew what we would be able to get them on."
Mostly, the Bengals wanted to make sure Larry Johnson didn't have another big game on them. Johnson ran for 201 yards and three touchdowns in that 37-3 win at the end of last season.
Johnson had only 68 yards against a line beefed up by the addition of tackle Sam Adams, who was in the game when it appeared the Chiefs might run. Adams and safety Dexter Jackson were the two main offseason additions to a defense that also got safety Madieu Williams back from injury.
"He had a couple of plays to the sideline," Adams said. "But if you can't run the ball up the middle, it's a done deal."
With the defense doing so well, Palmer didn't have to do much. Playing exactly eight months after his left knee was surgically rebuilt, Palmer went 13-of-19 for 127 yards. He threw only six passes in the second half, when the Bengals were comfortably ahead.
"Offensively, that doesn't cut it," Palmer said. "We need to do better, and we will do better as the season goes along."
WR T.J. Houshmandzadeh sat out the game with a bruised foot, suffered in the second-to-last preseason game. He's not sure if he'll be available for the next game against Cleveland. "I did what I could, and I was not ready to play," he said Sept. 11.
Palmer tried to get in touch by phone with Green, who has a severe concussion. Green repeatedly called Palmer after his knee injury in January, helping him through his rehab.
Bengals linemen had a total of 14 sacks last season, six of them by Smith.
Associated Press article