Students connect, volunteer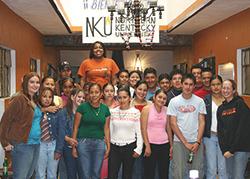 African-American Student Affairs and Latino Student Affairs are combining efforts to help ethnic minorities at Northern Kentucky University. Dubbed the Black and Brown Connection, the organizations are taking the first step by collaborating on their work with community projects.
"We've been partnering and pulling our resources, helping to work up and build our respective communities," said Cynthia Pinchback-Hines, associate dean of African- American Student Affairs. She believes this alliance has given students a new appreciation of partnership and working with others.
Leo Calderon, director of the Office of Latino Student Affairs, has a similar perspective on the interdepartmental collaboration. "The more contact we have with a variety of folks, the more you're going to have the advantage," Calderon said. "Having the exposure is a definite advantage."
The Black and Brown Connection began when the departments decided to combine their recognition dinners, Calderon said. These dinners award students for their work with the university, as well as the community. The joint-dinner has also led to other university events that work with the community, as well as NKU.
"What we do have at this institution can very well be transferred to the community, and the work that we're doing in the community translates into something that's positive for the university," Pinchback-Hines said. Both groups have done their fair share in working to improve their communities through exposure events and public forums. "It makes sense that we would want to build up our brothers and sisters regardless of their background."
One of the larger projects this partnership initiated was an alternative spring break trip to Mazimitla, Mexico, last semester. NKU students and faculty along with the National Underground Railroad Freedom Center and the University of North Texas did community service for Mazimitla natives, teaching people of the community how to use the Internet, set up an e-mail account and gather information, Calderon said.
"They did three things basically. They taught students how to use technology, they visited some of the poverty-stricken areas and they also taught English to all the people who wanted to learn," Calderon added.
Latino and African-American Student Affairs are planning to take another trip next spring, Calderon said. Any student can go, regardless of major. "You don't have to be a Spanish major. You don't have to be Latino," Calderon added.
Community education is one of the important points, especially with immigration reform being a hot-button subject with the United States government. "It's a very complicated issue that needs to be addressed," Calderon said.
One of the major issues he expressed was the need for immigrants, and more importantly, their children, to be included in higher education. "They're not eligible for financial aid in this case," Calderon said. "That's one of the dilemmas when it comes to higher education. The accessibility."
"We stand by the immigration reform that allows people to stay and become citizens," Pinchback-Hines said. "We want to do what we can to insure that our civil rights are protected."
"By having public forums, we can better discuss the issue on both sides equally," Calderon added. "This way, when people are asked, they can be better informed. You can hopefully have positions."