Women's soccer revamps team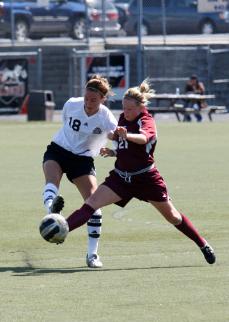 Once again, the Northern Kentucky University Women's Soccer Team has been chosen to finish atop the Great Lakes Valley Conference. The team received 12 out of 14 first place votes in the coach's poll.
The team has reloaded and is ready to battle the top teams in Division II. The Norse has six returning starters, but they have plenty of depth on the bench.
The team lost star scorer Kristen Votapek and five other solid players. The Norse shouldn't have any problem replacing Votapek. Senior Amy Law and Junior Jayme Light are capable of picking up the scoring slack. The Norse also returns the GLVC Freshman of the Year Alex Armstrong.
In addition to the returning starters, the team now has 14 new players who will be competing for playing time. The Norse added two transfers from solid Division I programs. Junior Jessica Gadd is a transfer from the University of Rhode Island, and junior Cara Alldred is a transfer from the University of Cincinnati. The remaining 12 players are all freshmen who will also be competing for starting time.
The Norse has to fill the big void in goal left by Sam Westerling. Westerling finished the season with a 17-3 record when she was in goal. NKU will need some solid play in net to keep their reign atop the GLVC. Two freshmen, Jenna Kramer and Alayna Fontaine, are competing for the starting goalkeepers job.
With the new talent and the returning leadership, the NKU Women's soccer team is well on their way to repeating as champions of the GLVC.
The Norse begins the season Aug. 25, on the road against Concord University in West Virginia. The Norse plays its first home game Sept. 1 at 7:30 p.m. against the University of Indianapolis. The Norse plays its home games at the Town ' Country Sports Complex in Wilder, Ky.