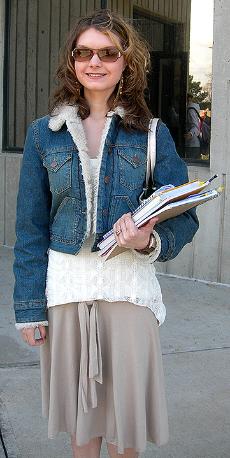 History repeats itself, so why shouldn't fashion? Those in tune with the fashion world have surely noticed the avalanche of '80s inspired fashions hitting stores such as leggings, over-sized sweaters, bubble skirts and yes-even legwarmers. But before deciding to run for the hills trying to tide out the '80s fashion wave, remember even items synonymous with big hair and a neon color palette can be tasteful, if given a 2000s twist first.
Let's tackle the subject of leggings. Leggings could be thought of as superfluous because they're an extra layer that one doesn't really need-what's the point in wearing something underneath skirts or pants if you're already wearing a skirt or pants? This is true, to a point. However, as fall approaches, it will be harder and harder to continue wearing that awesome jean mini-skirt that goes with everything, so the obvious (and fashionable) solution: wear leggings underneath the skirt. This ensemble looks super-cute, and has a slimming effect if the leggings are a dark solid color.
Nevertheless, like everything in fashion, there are a few things one should remember while rocking out the leggings. First of all, in the '80s leggings came in every shade of the rainbow, and had cutesy hearts and stars on them. In 2006, wearing a mini-skirt with neon-green leggings is a fashion "don't". Keep your leggings looking modern by sticking with basic neutrals: white, black or brown. Also, avoid channeling "Flashdance" by wearing simple shoes such as ballet flats or sneakers with leggings.
Leggings can be found in department stores like Forever 21 and Old Navy and run around $10.
Another '80s fashion making a comeback is the infamous over-sized sweater. However, I don't recommend wearing one, unless you like your bangs to stand three inches off your forehead. But if you really like the silhouette, get the modern version by wearing long shirts, blouses or the new shirt dresses over leggings. These long tops should hit mid-thigh or so. Stars such as Lindsay Lohan and Keira Knightley have been sporting long shirts over leggings for some time now. However, most of these tops are shapeless, which unchecked make the wearer look like a bulky bag lady. Avoid this problem by copying Lindsay and wearing a belt over the shirt, which creates a waist and looks more original at the same time.
Long shirts are carried virtually everywhere, so finding some to complement your leggings should be cinch.
A third '80s staple showing up in stores is the bubble skirt. These skirts float on the wearer, with an effect much like a ballerina's tutu. Bubble skirts look great with detailed camis, the new Victorian-era inspired blouses and basically anything tight and slightly dressy. Because of the skirt's classic bubble effect, avoid loose or flimsy tops. Sophisticated bubble wearers should shoot for floaty on the bottom, tailored on the top. These skirts normally come in the mini variety (in which case the leggings are called for) but stores are also carrying the knee-length kind, for which the above rules still apply.
As for footwear, ballet flats and kitten heels look fabulous. However, knee-high boots that work with regular skirts are a no-no for the bubble. Equestrian and ballerina just don't mix.
Bubbles can be found at stores like Macy's, Target and even Wal-Mart for very reasonable prices.
Last but not least, legwarmers. This '80s staple was shunned above all others. And guess what? They still should. Call me old-fashioned (or would that be new-fashioned), but I cannot stomach legwarmers on modern-day women. Leave the legwarmers to Jennifer Grey or Molly Ringwald, ladies, unless you really are a dancer.
When it comes to '80s revival fashion, one word should save you from the mistakes of our fashion forerunners: moderation. Taking fashion to the extreme caused our '80s counterparts to proudly wear shoulder pads, legwarmers and side-ponytail. Embrace the '80s, but learn from its mistakes first.