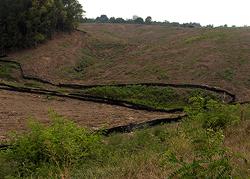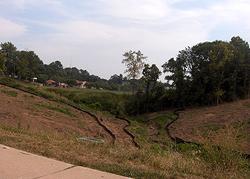 From a student's perspective, clearing hundreds of trees to make way for the new Bank of Kentucky Arena can't be healthy for the local environment.
From the university's point of view though, the project went further than just drawing blueprints and allocating funds, the environment played a large role in the planning.
"It is an unfortunate progress to take all the green away," says Blake. "But when the arena is done it will overall be better for the community."
Before demolition of the first tree, biologists put nets in the trees to see if anything endangered lived in the area, and found nothing.
They found squirrels, rabbits and other common woodland creatures. According to Dr. Rebecca Evans, chair of the Environmental Science Board, those animals do not have specific environments to live in, so it is easy for them to move to another woods in the area.
Facilities ensured comprehensive soil tests were conducted and verified nothing was wrong with the soil, according to Larry Blake, assistant vice president of Facilities.
According to Larry Blake, assistant vice president of Facilities, in order see if there anything is wrong with the area comprehensive soil tests, finding nothing.
The local sanitary district conducted a water survey of the area, finding that many animals use the area for watering purposes. They said to lessen any negative impact by creating a blue line stream. The stream will carry water away to other woodland areas, which will give the animals a place to get water and helping the area flourish.
Though a lot of trees are now gone, they will not be forgotten as the planning committee has allocated money to be used for landscaping.