Tavern's unknown fate upsets NKU community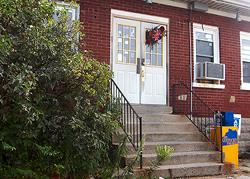 Skyline Tavern, a popular bar among Northern Kentucky University students, faculty and alumni, is closed and it is not known whether it will re-open.
The bar, located on John's Hill Road across from NKU, has been closed since Aug. 3 when its owner, 80-year-old Billie Sandhas, passed away.
The closing is a big deal for many at NKU. Students and faculty can no longer go there for a burger between classes or a drink after a long day. Some people have been hanging out there for years.
"It's not just the bar, it's the memories," said Joe Hacker, student and frequent patron of Skyline Tavern.
His fraternity, Alpha Tau Omega, has held their alumni Christmas party there for years. To him, the location is ideal because it "brings the alumni back near campus."
Hacker, an NKU student who can't imagine NKU without Skyline, started a group on the popular social-networking Web site Facebook.com to bring back the tavern.
More than 306 NKU students are members of the Facebook group, "Don't let them take Skyline Tavern away."
On the site, students have been posting pictures from time they've spent at the bar, along with comments about how much it means to them.
"I honestly think that the students could make a difference in whether Skyline Tavern stays a bar or not," posted NKU student Kristie Veldkamp on the group's site. "I think that maybe if NKU actually sees what Skyline Tavern means to the students, they might consider not turning it into a parking lot."
Other students are thinking of rallying students together to show how much the tavern means to NKU students.
Student Alex Kindell said, "That would be activism we could actually get NKU behind, I bet you anything. I would chain myself to the Skyline to stop the bulldozers; it is a cause that is worthy to the schools moral, too, come on."
Though NKU hasn't announced any plans to demolish the tavern or turn it into a parking lot, whether or not it re-opens still remains unknown.
The liquor licenses for the bar were in Sandhas's name and the process to get them switched over is difficult, making it indefinite if or when they bar will re-open.
Billie's son David Sandhas told the Enquirer that he would like to open the bar as soon as possible.
According to Jennifer Sandhas, Billie's daughter-in-law, the family is still meeting with attorneys and it will probably be a couple more weeks until they decide anything.
"We really don't know what we want to do," she said.
According to Hacker, it's a "landmark that everyone knows."
He commented on the great mix of people that congregated there on any given night. "No matter what group or clique you are in, everyone there treats you like a friend-it's like cheers," Hacker said.